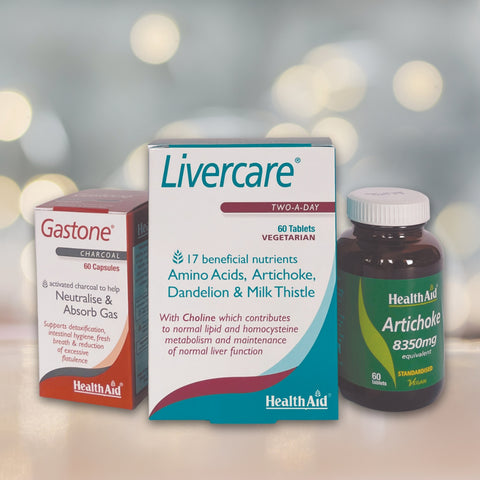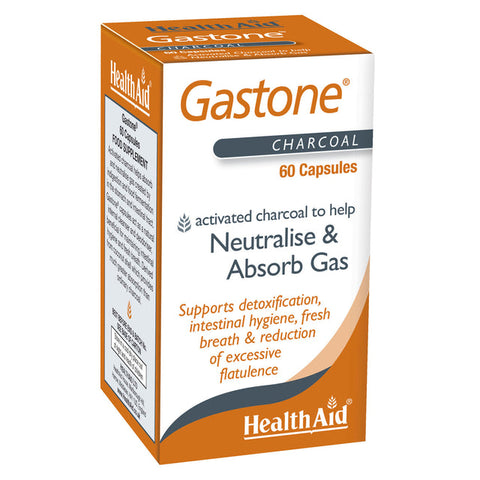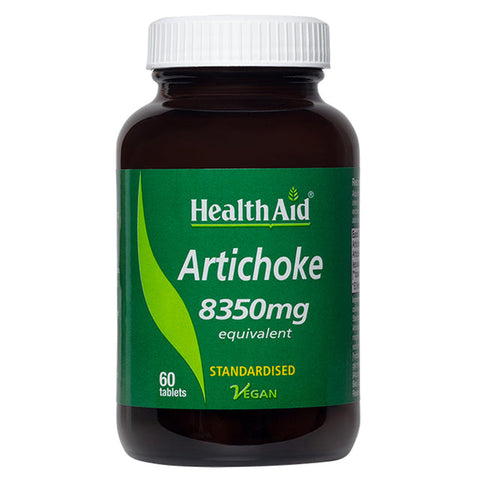 £35.07
£38.97
you save £3.90
Elevate your well-being with our premium Liver Health Combo Pack, a holistic solution available exclusively on the HealthAid ® website. Embrace the goodness of Livercare® Tablets, a potent blend of nutrients to support your liver's vital functions and detoxification processes. Paired with our Artichoke 8350mg Tablets, rich in antioxidants and known for their liver-cleansing properties, you're giving your body the ultimate care it deserves. Complete the regimen with our Gastone® Capsules, expertly crafted to promote digestive comfort and liver balance. Nourish and protect your liver with this powerhouse trio of supplements, all conveniently bundled in one package.
Livercare® Tablets
Ingredient
Value
%NRV
Beta Carotene
10 mg
*
Thiamine (Vitamin B1)
2.8 mg
255
Riboflavin (Vitamin B2)
3.2 mg
229
Niacin (Vitamin B3)
36 mg
225
Vitamin B6
4 mg
286
Folic Acid
400 µg
200
Vitamin B12
2 µg
80
Pantothenic Acid (Vitamin B5)
12 mg
200
L-Cysteine
200 mg
*
L-Glutamine
200 mg
*
L-Methionine
200 mg
*
Choline
200 mg
*
Inositol
200 mg
*
Dandelion Root
200 mg
*
Artichoke Leaf Powder
100 mg
*
Curcumin Extract
50 mg
*
Milk Thistle Extract** (**standardised to min 80% silybins)
80 mg
*
NRV: EC Nutrient Reference Value
*: EC Nutrient Reference Value Not Yet Established
Ingredients: Bulking Agent (di-calcium phosphate, microcrystalline cellulose), Choline Dihydrate Citrate, Inositol, L-Cysteine HCL, L-Glutamine, L-Methionine, Milk Thistle Extract (Silybum marianum), Curcumin Extract (Curcuma longa), Dandelion Root (Taraxacum officinalis), Vitamin B3 (nicotinamide), Anti-caking Agent (veg. magnesium stearate, veg. stearic acid), Artichoke Leaf Powder (Cynara scolymus), Vitamin B5 (calcium d-pantothenate), Beta Carotene, Vitamin B6 (pyridoxine HCL), Vitamin B2 (riboflavin), Vitamin B1 (thiamine), Folic Acid, Vitamin B12 (cyanocobalamin), BindingAgent [acacia, polyvinylpyrrolidone (PVP)].
Artichoke 8350mg Tablets
Ingredient
Value
%NRV
Artichoke Powder
190mg
*
Artichoke Extract** (Equivalent to 8160mg raw Artichoke powder) [**standardized for min 2.5% cynarin]
204mg
*
NRV: EC Nutrient Reference Value
*: EC Nutrient Reference Value Not Yet Established
Ingredients: Bulking Agent (microcrystalline cellulose, di-calcium phosphate), Artichoke Standardised Leaf Extract (Cynara scolymus), Artichoke Leaf Powder, Anti-caking Agent (veg. magnesium stearate, silica
Gastone (Activated Charcoal) Capsules
Ingredient
Value
%NRV
Activated Charcoal
260mg
*
NRV: EC Nutrient Reference Value
*: EC Nutrient Reference Value Not Yet Established
Ingredients: Activated charcoal, Capsule Shell (Gelatine)