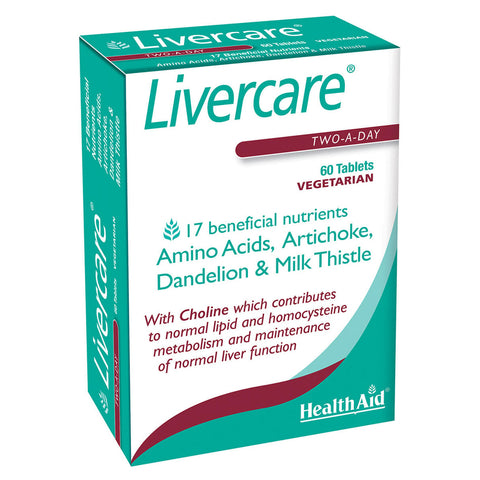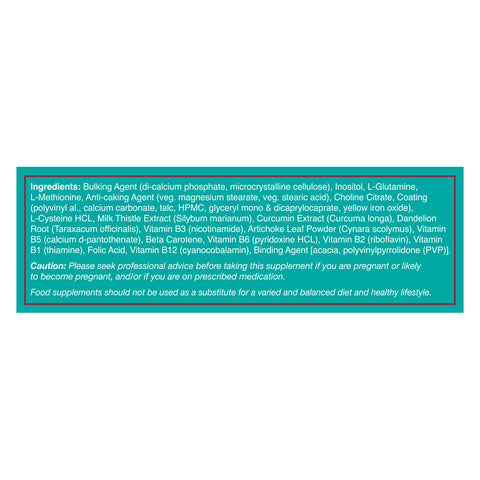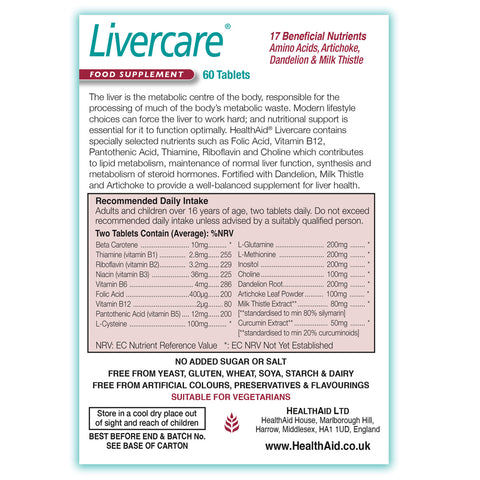 ---
---
The liver is the metabolic centre of the body, responsible for processing most of the body's metabolic waste. It is responsible for the removal of certain toxins from the body through two main mechanisms, known as phase 1 and phase 2 detoxification processes. The liver is also responsible for converting excess energy into fat deposits and then transferring the fat storage back into usable energy when required by the body. The health of the liver is paramount for the functioning of the metabolic pathways. 
Livercare® tablets are carefully formulated with specific ingredients which contribute to normal liver health. Livercare contains Amino Acids, which aid new cell formation within the liver and Milk Thistle, which consists of Silymarin, which supports liver health. Other ingredients include Artichoke, which consists of Silymarin and Cynarin, which act as an antioxidant and assist in detoxification. 
Benefits
Recommended Daily Intake
Adults and children over 16 years of age, two to four tablets daily. Do not exceed recommended daily intake unless advised by a suitably qualified person.
Free From
Free From Yeast, Gluten, Wheat, Soya, Starch, Dairy, Artificial Colours, Preservatives and Flavourings, No Added Sugar or Salt.
Nutritional Information
Livercare® Tablets contains (average):
Nutrient
Value
%NRV
Beta Carotene
10 mg
*
Thiamine (Vitamin B1)
2.8 mg
255
Riboflavin (Vitamin B2)
3.2 mg
229
Niacin (Vitamin B3)
36 mg
225
Vitamin B6
4 mg
286
Folic Acid
400 µg
200
Vitamin B12
2 µg
80
Pantothenic acid (Vitamin B5)
12 mg
200
L-Cysteine
200 mg
*
L-Glutamine
200 mg
*
L-Methionine
200 mg
*
Choline
200 mg
*
Inositol
200 mg
*
Dandelion Root
200 mg
*
Artichoke leaf Powder
100 mg
*
Curcumin Extract
50 mg
*
Milk Thistle Extract** (**standardised to min 80% silybins)
80 mg
*
*: EC Nutrient Reference Value Not Yet Established
Ingredients
Bulking Agent (di-calcium phosphate, microcrystalline cellulose), Choline Dihydrate Citrate, Inositol, L-Cysteine HCL, L-Glutamine, L-Methionine, Milk Thistle Extract (Silybum marianum), Curcumin Extract (Curcuma longa), Dandelion Root (Taraxacum officinalis), Vitamin B3 (nicotinamide), Anti-caking Agent (veg. magnesium stearate, veg. stearic acid), Artichoke Leaf Powder (Cynara scolymus), Vitamin B5 (calcium d-pantothenate), Beta Carotene, Vitamin B6 (pyridoxine HCL), Vitamin B2 (riboflavin), Vitamin B1 (thiamine), Folic Acid, Vitamin B12 (cyanocobalamin), BindingAgent [acacia, polyvinylpyrrolidone (PVP)].