Gastone (Activated Charcoal) Capsules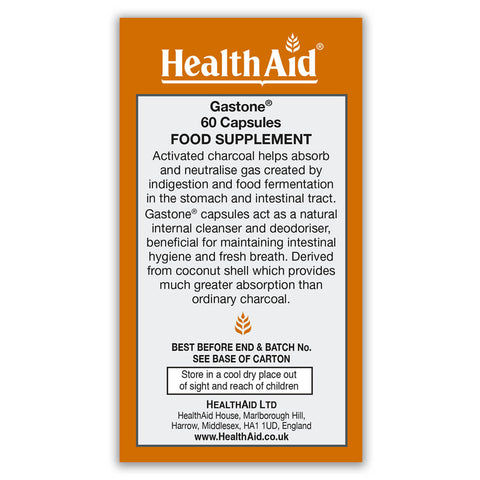 ---
---
Gastrone® is activated charcoal, derived from coconut shell. Charcoal from coconut shell is more efficiently absorbed by the body, compared to ordinary charcoal. HealthAid® Gastone works for your digestive system to provide relief and comfort. When you feel bloated and uncomfortable, there may be some assistance from Gastone in neutralising gas and odours from inside. 
Activated charcoal helps absorb and neutralise gas created by indigestion and food fermentation in the stomach and intestinal tract. Gastone® capsules act as a natural internal cleanser and de-odouriser, beneficial for maintaining digestion, intestinal hygiene and fresh breath. 
Benefits
Recommended Daily Intake
One to two capsules daily, after food. Can be increased to four per day if required. Do not exceed recommended daily intake unless advised by a suitably qualified person. Take product at least 2 hours after the ingestion of any medication.
Free From
Free From Yeast, Gluten, Wheat, Soya, Dairy, Sugar, Salt, Artificial Colour, Preservatives and Flavourings.
Nutritional Information
Gastone (Activated Charcoal) Capsules contains (average):
Nutrient
Value
%NRV
Activated Charcoal
260mg
*
*: EC Nutrient Reference Value Not Yet Established
Ingredients
Activated charcoal, Capsule Shell (Gelatine)