Zinc Citrate 100mg Tablets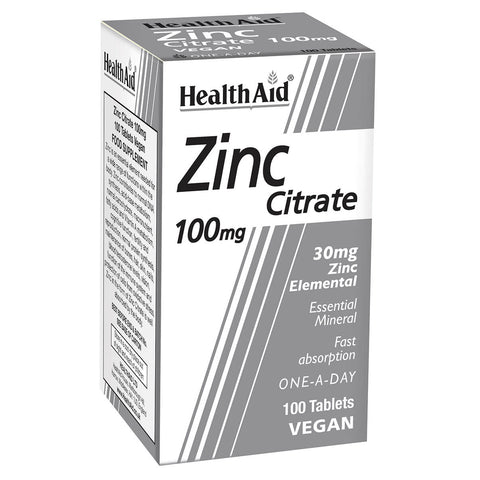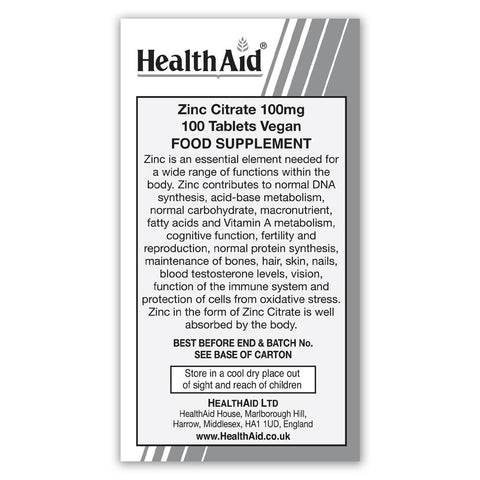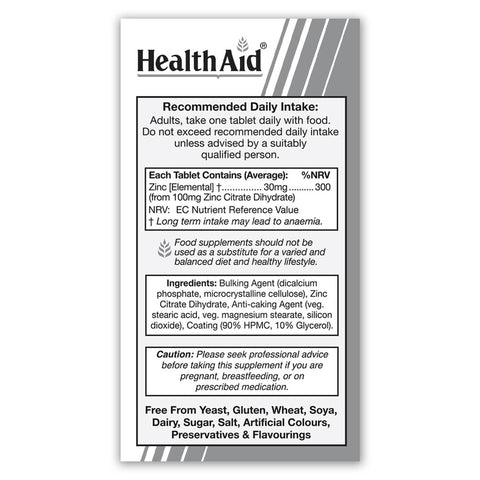 ---
---
Zinc deficiency is about 1 in 3 people worldwide. Signs of zinc deficiency include wounds that take time to heal, trouble concentrating, stomach problems, decreased sense of smell and taste, hair loss, loss of appetite and unexplained weight loss. Fertility problems can be exasperated by a lack of sufficient Zinc. Recurring health problems related to a low immune system could also be an indication of Zinc deficiency.
Zinc is involved in a great number of biological functions. Zinc aids normal cell division, which makes it especially important for growth and development during pregnancy and childhood. It is involved in bone formation and mineralisation, helping to maintain strong bones and teeth. Zinc also plays an important role in collagen and protein synthesis, vision, sexual function, fertility, antioxidant activity, immunity and much more. Zinc in the form of Zinc Citrate is well absorbed by the body and is an ideal form for individuals with sensitive stomachs.
Benefits
Recommended Daily Intake
Adults, take one tablet daily with food. Do not exceed recommended daily intake unless advised by a suitably qualified person.
Free From
Free from added sugar and salt ; Free from yeast, gluten, soya, wheat and dairy ; Free from artificial colours, preservatives and flavourings ; Suitable for vegetarians and vegans
Nutritional Information
Zinc Citrate 100mg Tablets contains (average):
Ingredient
Value
%NRV
Zinc Citrate
100 mg
*
Which Provides Zinc †
30 mg
300
NRV: EC Nutrient Reference Value
*: EC Nutrient Reference Value Not Yet Established
Ingredients
Bulking Agent (dicalcium phosphate, microcrystalline cellulose), Zinc Citrate, Disintegrant (croscarmellose sodium), Anticaking Agent (veg. stearic acid, veg. magnesium stearate, silicon dioxide), Coating (hypromellose, polydextrose, talc, maltodextrin, medium chain triglycerides).