Zimacal Effervescent Tablets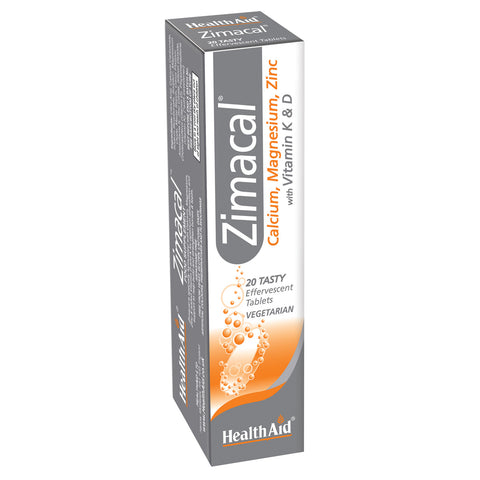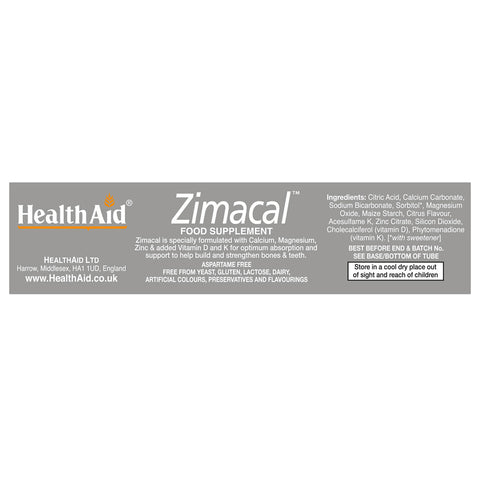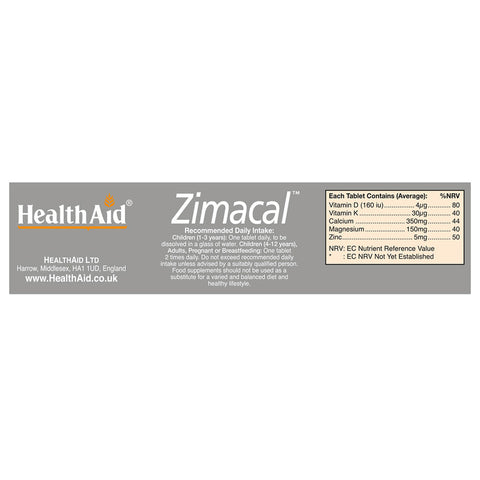 ---
---
Zimical Effervescent Tablets contain Calcium, Magnesium and Zinc, which are three of the most important Minerals that the body needs to help gain and maintain strong bone health. Calcium and Magnesium contribute to the maintenance of strong and healthy bones, whilst Zinc is essential for cell division and growth. 
Zimacal Effervescent Tablets are specially formulated with Calcium, Magnesium, Zinc and added Vitamin D and Vitamin K for optimum absorption and support to help build and strengthen bones and teeth. 
Zimacal Effervescent Tablets offer complete bone support in one great tasting citrus flavoured effervescent tablet, making it simple to take and pleasant to taste. 
Benefits
Recommended Daily Intake
Children (1-3 years): One tablet daily, to be dissolved in a glass of water. Children (4-12 years), Adults, Pregnant or Breastfeeding: One tablet 2 times daily. Do not exceed recommended daily intake unless advised by a suitably qualified person.
Free From
Free From Yeast, Gluten, Lactose, Dairy, Artificial Colours, Preservatives and Flavourings and Aspartame.
Nutritional Information
Zimacal Effervescent Tablets contains (average):
Ingredient
Value
%NRV
Vitamin D
4 µg
80
Vitamin K
30 µg
40
Calcium
350 mg
44
Magnesium
150 mg
40
Zinc
5 mg
50
NRV: EC Nutrient Reference Value
*: EC Nutrient Reference Value Not Yet Established
Ingredients
Citric Acid, Calcium Carbonate, Sodium Bicarbonate, Sorbitol*, Magnesium Oxide, Maize Starch, Citrus Flavour, Acesulfame K, Zinc Citrate, Silicon Dioxide, Cholecalciferol (vitamin D), Phytomenadione (vitamin K). [*with sweetener]