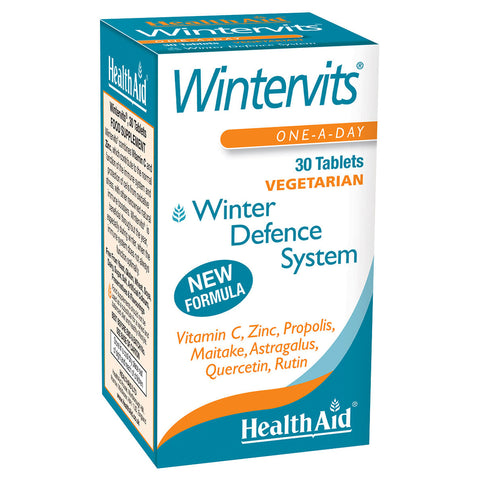 ---
---
During the winter months our immune systems are more prone to health complications due to the colder temperatures. There are key Vitamins and Minerals which are particularly beneficial in assisting the body to combat certain health problems. HealthAid® has expertly combined several immune system supporting nutrients into Wintervits® tablets.

Wintervits® combines Vitamin C, which is an antioxidant and natural antihistamine agent, together with Zinc, which contributes to the normal functioning of the immune system. Propolis is a natural product of beehives, where it is used to kill bacteria and other pathogens within the bee's hives. Other ingredients include Rutin, Quecertin, Astragalus Extract and Maitake mushroom powder. Wintervits® is beneficial throughout the year, especially during winter, when the immune system can possibly be at risk.
Benefits
Recommended Daily Intake
Adults and children over 12 years of age: one tablet daily. Do not exceed recommended daily intake unless advised by a suitably qualified person.
Free From
Free from added Salt and Sugar; Free from Yeast, Gluten, Wheat, Soya and Dairy ; Free from Artificial Colours, Preservatives, and Flavourings; Suitable for Vegetarians
Nutritional Information
Wintervits® Tablets contains (average):
Ingredient
Value
%NRV
Vitamin C
1000 mg
1250
Zinc
15 mg
150
Rutin
100 mg
*
Quercetin
75 mg
*
Maitake Mushroom Powder
225 mg
*
Astragalus Extract (equivalent to 230mg Astragalus powder)
57.5 mg
*
Propolis Extract (equivalent to 150mg Propolis powder)
37.5 mg
*
NRV: EC Nutrient Reference Value
*: EC Nutrient Reference Value Not Yet Established
Ingredients
Vitamin C Prep [calcium ascorbate, hydroxy propyl methyl cellulose (HPMC)], Maitake Mushroom Powder (grifola frondosa), Rutin, Bulking Agent(microcrystalline cellulose), Quercetin,Anti-caking Agent (veg. magnesium stearate,silica), Astragalus Root Extract (astragalus membranaceus), Zinc Citrate, Stabiliser(croscarmellose sodium), Binding Agent(acacia gum), Glazing Agent (HPMC,glycerine), Propolis Extract (resina propoli).