Vitamin K Complex +Vit D3 Tablets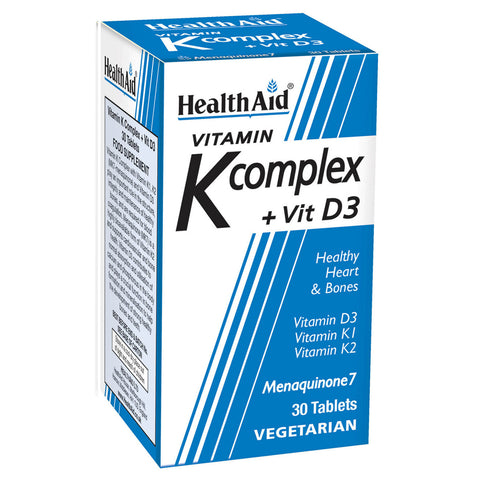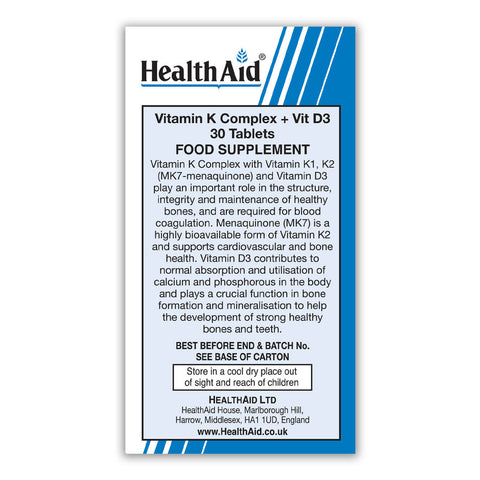 ---
---
As we age our joints become stiff and achy. Sometimes this comes with the deterioration of bone density. The natural ageing process comes with a whole variety of aches and pains. However, there are certain nutrients that can assist and support the ageing process by delaying the initialisation of these concerns. HealthAid®'s Vitamin K Complex with Vitamin D is one such product specifically for bone health.

Vitamin K Complex with Vitamin K1, K2 (MK-7 menaquinone) and Vitamin D3 play an important role in the structure, integrity and maintenance of healthy bones, and are required for blood coagulation. Menaquinone (MK7) is a highly bioavailable form of Vitamin K2 and supports cardiovascular and bone health. Vitamin D3 contributes to normal absorption and utilisation of calcium and phosphorus in the body, and plays a crucial function in bone formation and mineralisation to help the development of strong and healthy bones and teeth.
Benefits
Recommended Daily Intake
Adults and children over 12 years of age, one to two tablets daily. Do not exceed recommended daily intake unless advised by a suitably qualified person.
Free From
Free from added Salt ; Free from Gluten, Dairy, Gelatin, Yeast, Lactose, Nut ; Free from Artificial Colours, and Flavourings ; Suitable for Vegetarians
Nutritional Information
Vitamin K Complex +Vit D3 Tablets contains (average):
Nutrient
Value
%NRV

Vitamin D3 (400iu)

10μg

200

Vitamin K1

60μg

80

Vitamin K2-MK7

30μg

40

*: EC Nutrient Reference Value Not Yet Established

Ingredients
Bulking Agent (maltodextrin, microcrystalline cellulose), Vitamin K2-MK7 (menaquinone-7) Preparation (glycerol monostearate, fermented defatted flour extract, alpha tocopherol acetate), Coating [calcium carbonate, hydroxypropyl methylcellulose (HPMC), isomalt, medium chain triglycerides], Vitamin D3 (cholecalciferol), Anti-caking Agent (silicon dioxide, veg. stearic acid, veg. magnesium stearate), Vitamin K1