Vitamin D3 20,000iu Vegicaps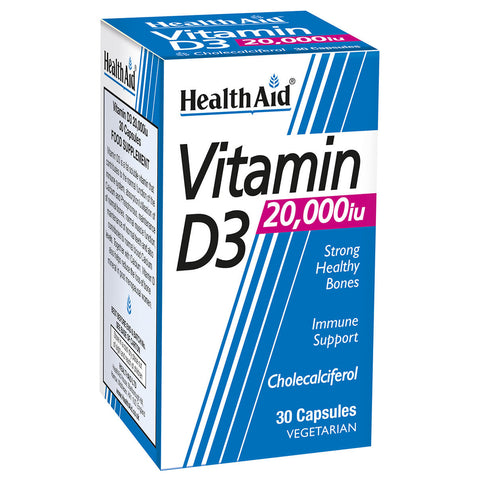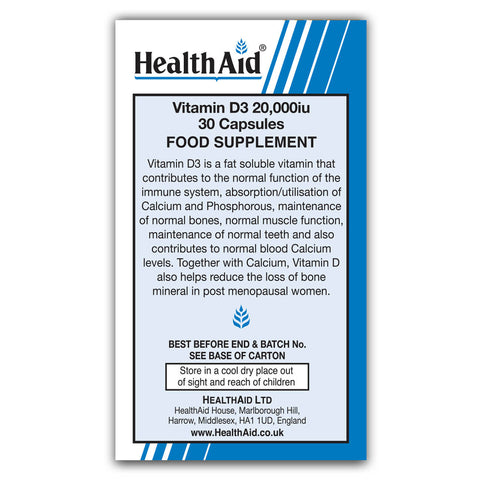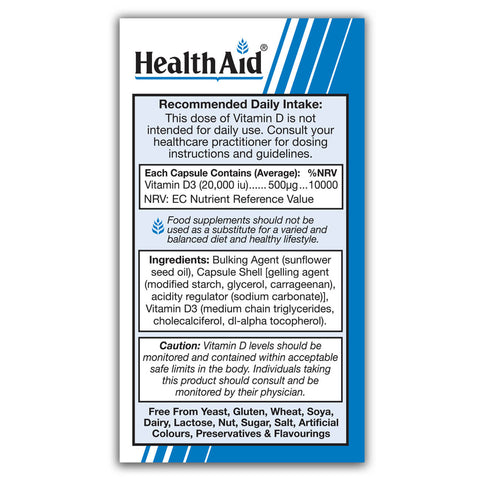 ---
---
Vitamin D can be created by the body when the skin is exposed to sunshine for a small amount of time. Certain factors such as the amount of melatonin, lack of sunshine and certain lifestyles can diminish Vitamin D stored within the body. A lack of Vitamin D can cause lethargy, tiredness, muscle problems, bone pains and mood changes. 
Certain health problems such as a weak immune system may be assisted by Vitamin D. Supplementation with Vitamin D alongside a healthy diet can contribute to the normal absorption and utilisation of Calcium and Phosphorus (which contribute to normal bones and normal teeth). Vitamin D is also used within the body for the normal function of the immune system. Vitamin D also contributes to normal blood Calcium levels and has a role in cell division. 
Benefits
Recommended Daily Intake
This dose of Vitamin D is not intended for daily use. Consult your healthcare practitioner for dosing instructions and guidelines. Do not exceed recommended daily intake unless advised by a suitably qualified person.
Free From
Free From Yeast, Gluten, Wheat, Soya, Dairy, Lactose, Nut, Sugar, Salt, Artificial Colours, Preservatives and Flavourings.
Nutritional Information
Vitamin D3 20,000iu Vegicaps contains (average):
Nutrient
Value
%NRV

Vitamin D3 (20,000iu)

500µg

10000

* EC Nutrient Referance Value Not Yet Established
Ingredients
Bulking Agent (sunflower seed oil), Capsule Shell [gelling agent (modified starch, glycerol, carrageenan), acidity regulator (sodium carbonate)], Vitamin D3 (medium chain triglycerides, cholecalciferol, dl-alpha tocopherol).