Vitamin D3 (1000iu) Spray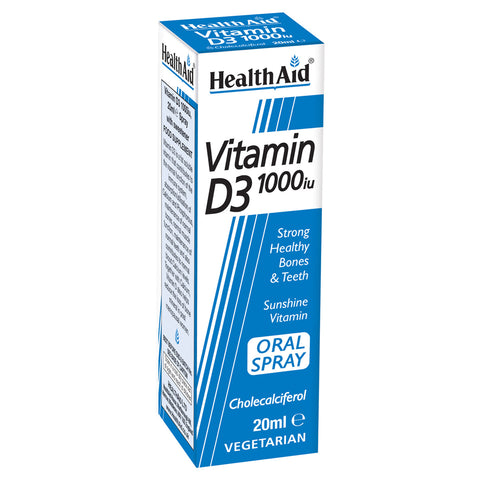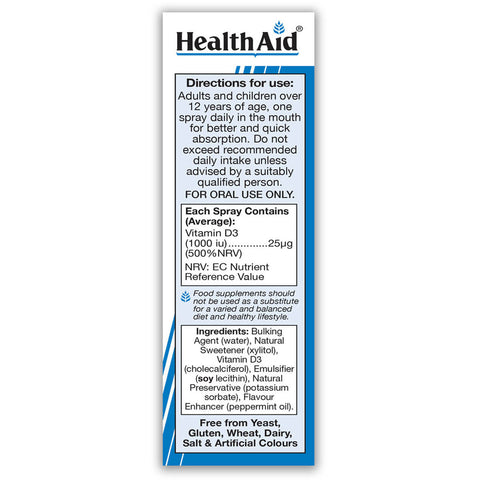 ---
---
Vitamin D can be created by the body when the skin is exposed to sunshine for a small amount of time. Certain factors such as the amount of melatonin, lack of sunshine and certain lifestyles can diminish Vitamin D stored within the body. A lack of Vitamin D can cause lethargy, tiredness, muscle problems, bone pains and mood changes. 
Certain health problems such as a weak immune system may be assisted by Vitamin D. Supplementation with Vitamin D alongside a healthy diet can contribute to the normal absorption and utilisation of Calcium and Phosphorus (which contribute to normal bones and teeth). Vitamin D is also used within the body for the normal function of the immune system. Vitamin D also contributes to normal blood Calcium levels and has a role in cell division. 
Benefits
Recommended Daily Intake
Adults and children over 12 years of age, one spray daily in the mouth for better and quick absorption. Do not exceed recommended daily intake unless advised by a suitably qualified person.
Free From
Free from Yeast, Gluten, Wheat, Dairy, Salt and Artificial Colours.
Nutritional Information
Vitamin D3 (1000iu) Spray contains (average):
Ingredients
Amount
%NRV
Vitamin D3 (1000iu)
25µg
500
NRV: EC Nutrient Reference Value
*: EC Nutrient Reference Value Not Yet Established
Ingredients
Bulking Agent (water), Natural Sweetener (xylitol), Vitamin D3 (cholecalciferol), Emulsifier (soy lecithin), Natural Preservative (potassium sorbate), Flavour Enhancer (peppermint oil).