Vitamin B6 (Pyridoxine HCl) 100mg Tablets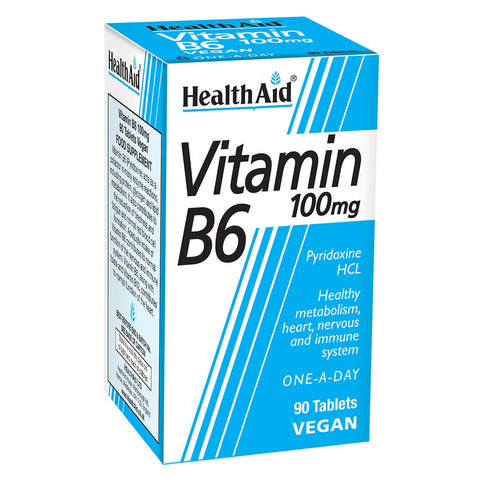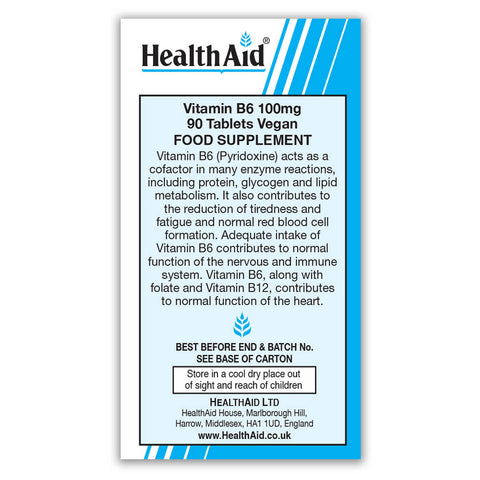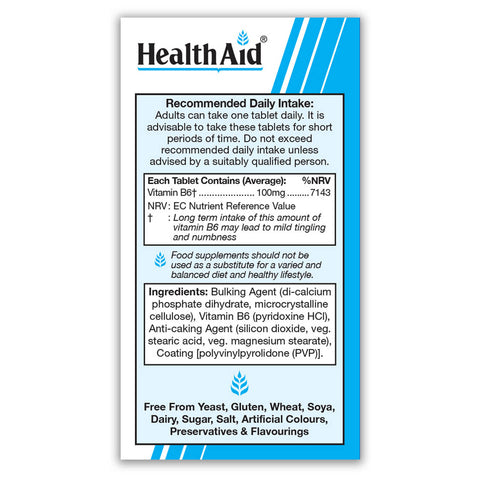 ---
---
Low mood and hormonal changes can lead to extra pressure on Vitamin B in the body. A lack of Vitamin B6 can lead to signs such as a skin rash, a low mood, and an irritated and red tongue. As an essential Vitamin necessary for a range of processes in the body, Pyridoxine HCl (or Vitamin B6) is easily supplemented when dietary needs are not sufficient. Vitamin B6 contributes to normal homocysteine, protein and glycogen metabolism.
It is also important in hormone regulation, formation of red blood cells and muscle coordination. Adequate intake of vitamin B6 through diet or supplementation is necessary for the proper functioning of the nervous system.
Benefits
Recommended Daily Intake
Adults and children over 12 years of age, one tablet daily (can be increased to two if required). Do not exceed recommended daily intake unless advised by a suitably qualified person.
Free From
Free from added Sugar and Salt Free from Corn, Yeast, Gluten, Wheat, Starch, Dairy, Lactose, Soya, Nut Free from added Artificial Colours, Preservatives & Flavourings Suitable for Vegans and Vegetarians
Nutritional Information
Vitamin B6 (Pyridoxine HCl) 100mg Tablets contains (average):
Nutrient
Value
%NRV
Vitamin B6 *
100mg
7143
*: EC Nutrient Reference Value Not Yet Established
Ingredients
Bulking Agent (di-calcium phosphate, microcrystalline cellulose), Vitamin B6 (pyridoxine HCL), Anti-caking Agent (veg.stearic acid, veg.magnesium stearate, silicon dioxide), Binding Agent [polyvinylpyrrolidone (PVP)].