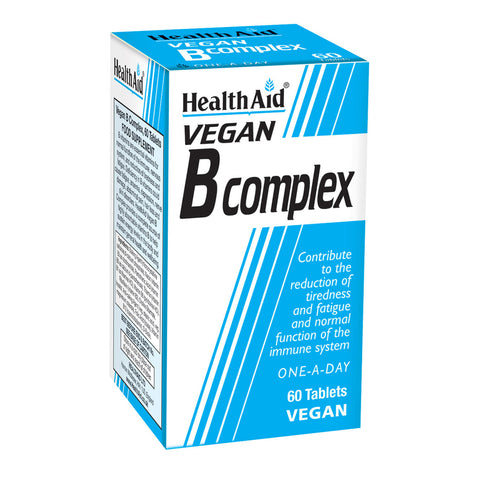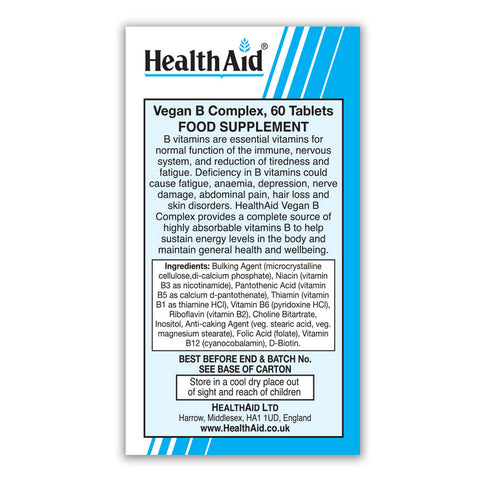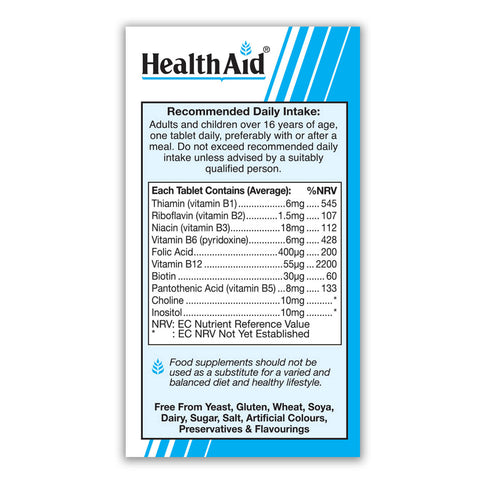 ---
---
Do you feel like there are never enough hours in the day? Constantly longing for a power nap. If only we had the seemingly never-ending energy of a 5-year-old. So many tasks throughout our day, from Monday through to Sunday, consume your strength.
Modern-day living, balancing family time and workload can often lead to a depletion of energy converting nutrients such as Vitamin B. Therefore, HealthAid® now offers a Vegan B Complex Tablets, combining several of the B Vitamins to contribute to the reduction of tiredness and fatigue.
Vegan B Complex provides a complete source of highly absorbable B vitamins to help sustain energy levels in the body; for those on a vegetarian or vegan diet to help supplement their diet, especially with B12 and B1.
These B Vitamins contribute to normal functioning of the nervous system, homocysteine metabolism, psychological function, red blood cell formation, the immune system and the reduction of tiredness and fatigue. Vegan B Complex Tablets are best taken in times of stress and growth development.
Can also be taken by busy executives, sports people or those leading a very hectic and active lifestyle. Biotin contributes to normal macronutrient metabolism and the maintenance of normal skin and hair. Choline and Inositol contribute to normal macronutrient and lipid metabolism and the maintenance of normal liver function.
Benefits
Recommended Daily Intake
Adults and children over 16 years of age, one tablet daily. Do not exceed recommended daily intake unless advised by a suitably qualified person.
Free From
Free from added Sugar and Salt Free from Corn, Gelatine, Yeast, Gluten, Wheat, Starch, Dairy, Lactose, Soya, Nut Free from Artificial Colours, Preservatives & Flavourings Suitable for Vegans and Vegetarians
Nutritional Information
Vegan B Complex Tablets contains (average):
| Nutrient | Value | %NRV |
| --- | --- | --- |
| Thiamin (Vit. B1) | 6mg | 545 |
| Riboflavin (Vit. B2) | 1.5mg | 107 |
| Niacin | 18mg | 112 |
| Vitamin B6 (Pyridoxine) | 6mg | 428 |
| Folic Acid | 400µg | 200 |
| Vitamin B12 | 55µg | 2200 |
| Biotin | 30µg | 60 |
| Pantothenic acid | 8mg | 133 |
| Choline | 10mg | * |
| Inositol | 10mg | * |
*: NRV Not Yet Established
Ingredients
Bulking Agent (microcrystalline cellulose,di-calcium phosphate), Niacin (vitamin B3 as nicotinamide), Pantothenic Acid (vitamin B5 as calcium d-pantothenate), Thiamin (vitamin B1 as thiamine HCl), Vitamin B6 (pyridoxine HCl), Riboflavin (vitamin B2), Choline Bitartrate, Inositol, Anti-caking Agent (veg. stearic acid, veg. magnesium stearate), Folic Acid (folate), Vitamin B12 (cyanocobalamin), D-Biotin.