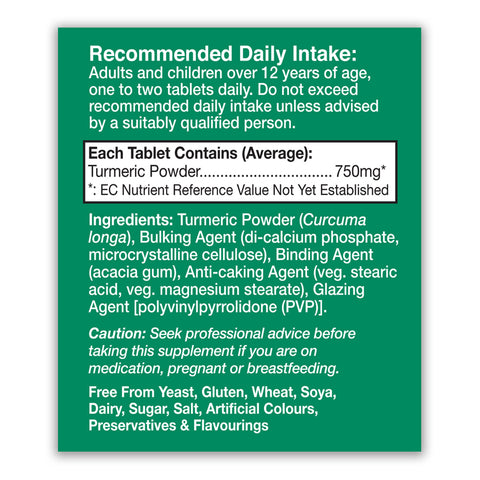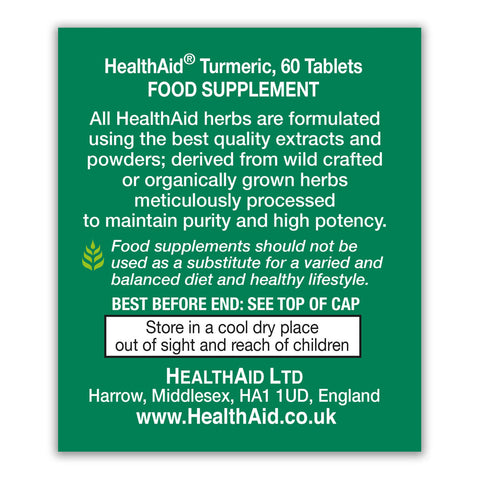 ---
---
Turmeric is believed to be one of nature's most powerful antioxidants with many health benefits. It has anti-inflammatory properties, making it beneficial for reducing inflammation. Its neuroprotective qualities suggest a role in enhancing cognitive health and possibly reducing the risk of neurodegenerative diseases. Other benefits include supporting the immune system, aiding digestion and its potential to support joint health.  
HeallthAid Turmeric 750mg Tablets are formulated using the best quality extracts and powders, derived from organically grown herbs, meticulously processed to maintain purity and high potency. 
Benefits
Recommended Daily Intake
Adults and children over 12 years of age, one to two tablets daily. Do not exceed recommended daily intake unless advised by a suitably qualified person.
Free From
Free From Yeast, Gluten, Wheat, Soya, Dairy, Sugar, Salt, Artificial Colours, Preservatives and Flavourings.
Nutritional Information
Turmeric Tablets 750mg contains (average):
| Nutrient | Value | %NRV |
| --- | --- | --- |
| Turmeric Powder | 750mg* | * |
Ingredients
Turmeric Powder (curcumalonga), Bulking Agent (di-calcium phosphate, microcrystalline cellulose), Binding Agent (acacia gum), Anti-caking Agent (veg. stearic acid, veg. magnesium stearate), Glazing Agent [polyvinylpyrrolidone (PVP)].