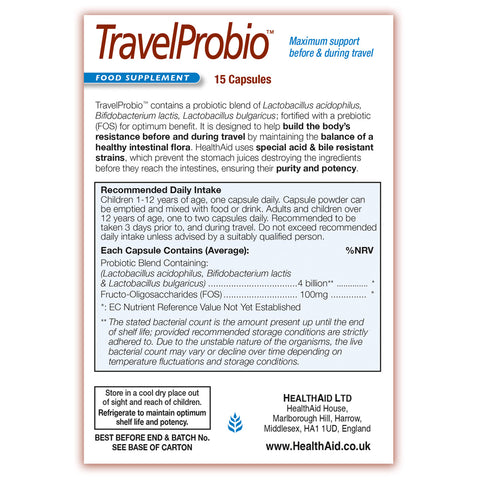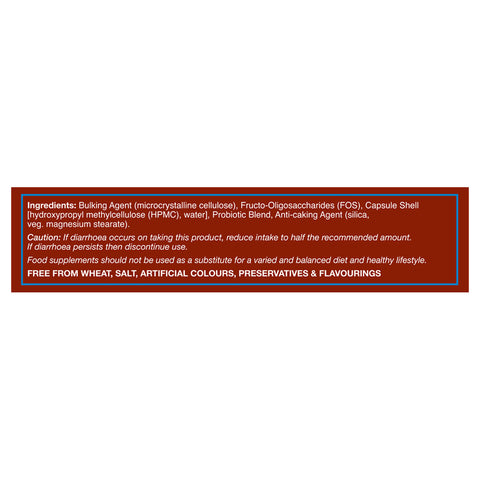 ---
---
A healthy digestive system contains a healthy balance of 'friendly' and 'unfriendly' bacteria. They are constantly in competition. Certain foods or antibiotics can increase 'unfriendly' bacteria or decrease the concentration of both 'friendly' and 'unfriendly' bacteria, resulting in digestive tract problems and compromised immunity.  
HealthAid® Travelprobio™ helps to supplement your diet to help build the body's resistance before and during travelling, as differences in food and drink products away from home can affect the bacteria in our gut. TravelProbio™ provides 4 billion special strains of Lactobacillus and Bifidobacterium (live microorganisms) with added Fructo-Oligosaccharides (FOS) a prebiotic, to help support the growth of 'friendly' bacteria in the intestinal tract. 
Benefits
Recommended Daily Intake
Children 1-12 years of age, one capsule daily. Capsule powder can be emptied and mixed with food or drink. Adults and children over 12 years of age, one to two capsules daily. Recommended to be taken 3 days prior to and during travel. Do not exceed recommended daily intake unless advised by a suitably qualified person.
Free From
Free from Wheat, Salt, Artificial Colours, Preservatives and Flavourings.
Nutritional Information
TravelProbio Vegicaps contains (average):
Ingredients
Amount
%NRV
Lactobacillus acidophilus
4 billion**
*
Bifidobacterium lactis
4 billion**
*
Lactobacillus bulgaricus
4 billion**
*
Fructo-Oligosaccharides (FOS)
100mg
NRV: EC Nutrient Reference Value
*: EC Nutrient Reference Value Not Yet Established
**The stated bacterial count is the amount present up until the end of shelf life; provided recommended storage conditions are strictly adhered to. Due to the unstable nature of the organisms, the live bacterial count may vary or decline over time depending on temperature fluctuations and storage conditions.
Ingredients
Bulking Agent (microcrystalline cellulose), Fructo-Oligosaccharides (FOS), Capsule Shell [hydroxy propyl methyl cellulose (HPMC), water], Probiotic Blend, Anti-caking Agent (silica, veg. magnesium stearate).