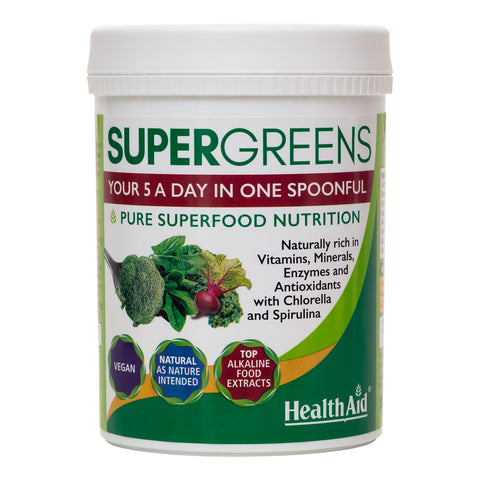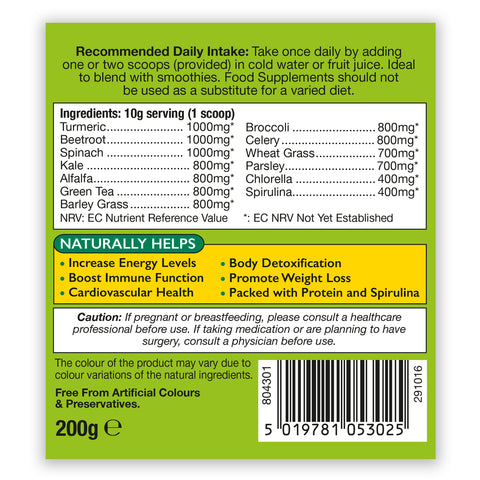 ---
---
Nutrition experts advise consuming five servings of fruits and vegetables daily, emphasising the need for "three cups of leafy greens and cruciferous veggies like broccoli, kale, and cauliflower, known for their antioxidants." The UK's common diet, rich in meat, dairy, processed foods, sugary snacks, alcohol, and soft drinks, tends to be more acidic. This excess acidity can disrupt pH balance, leading to gut imbalances, digestive issues, inflammation and weakened immunity. 
Certain foods, including alfalfa, barley, beets, broccoli, cabbage, kale and spinach, are alkaline-forming and help maintain optimal pH levels. Spirulina also contributes to acid-alkaline balance and offers protein. HealthAid® SuperGreens powder contains 20 ingredients like beetroot, kale, and seaweed, offering a concentrated nutrient blend that aids detoxification, boosts energy, and enhances mental clarity. This Supergreens powder provides abundant antioxidants and nutrients for a stronger immune system, combating fatigue effectively. 
Benefits
Recommended Daily Intake
Take once daily by adding one or two scoops (provided) in cold water or fruit juice. Ideal to blend with smoothies. Do not exceed recommended daily intake unless advised by a suitably qualified person.
Free From
Free From Artificial Colours and Preservatives.
Nutritional Information
SuperGreens Powder 200g contains (average):
Ingredients
Amount
%NRV
Turmeric
10g
1000mg
Beetroot
10g
1000mg
Spinach
10g
1000mg
Kale
10g
800mg
Alfalfa
10g
800mg
Green Tea
10g
800mg
Barley Grass
10g
800mg
Broccoli
10g
800mg
Celery
10g
800mg
Wheat Grass
10g
700mg
Parsley
10g
700mg
Chlorella
10g
400mg
Spirulina
10g
400mg
NRV: EC Nutrient Reference Value
*: EC Nutrient Reference Value Not Yet Established
*Values provided are per 10g serving
Ingredients
Powder extracts: Turmeric, Beetroot, Spinach Kale, Alfalfa, Green Tea, Barley Grass, Broccoli, Celery, Wheat Grass, Parsley, Chlorella, Spirulina.