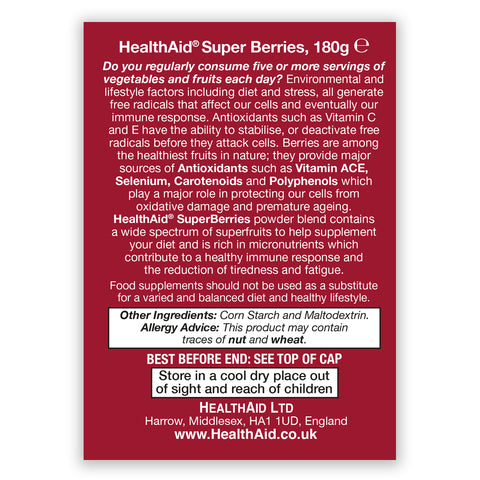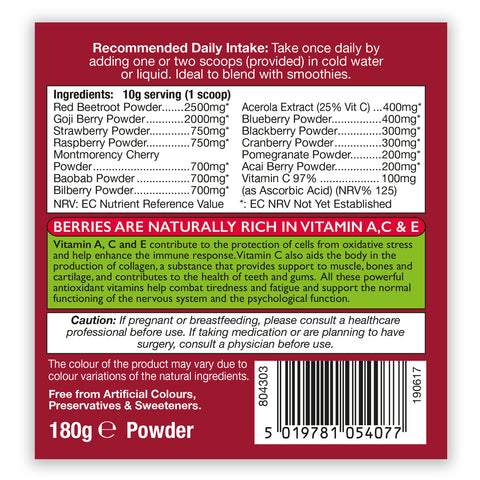 ---
---
Berries are the ultimate superfoods, due to their abundance in phytochemicals, which promote brain vitality, vibrant skin and a reduced risk of common health issues. Berries are a source of potent Antioxidants and Phytochemicals like Anthocyanins, which can enhance blood vessel function and maintain optimal blood pressure and glucose levels. Regular berry consumption correlates with slower cognitive decline. 
A key component of this formulation is freeze-dried Beetroot powder, renowned for elevating Nitric Oxide levels. This, in turn, expands and relaxes blood vessels, boosts energy, circulation, stamina and supports heart and sexual health. The freeze-drying method preserves the active ingredients. 95% of the water is extracted from our SuperBerries, resulting in a significantly higher concentration of Vitamins and Phytochemicals, compared to raw berries. HealthAid® SuperBerries Powder is a comprehensive blend of 14 potent superfoods composed of premium-grade ingredients, making it an ultra nutrient-dense shake to take any time of the day, which can be added to water, smoothies and even food such as salads and yoghurts. 
Benefits
Recommended Daily Intake
Take once daily by adding one or two scoops (provided) in cold water or liquid. Ideal to blend with smoothies. Do not exceed recommended daily intake unless advised by a suitably qualified person.
Free From
Free from Artificial Colours, Preservatives and Sweeteners.
Nutritional Information
SuperBerries Powder 180g contains (average):
Nutrient
Amount
Beetroot
10g
Goji Berry
10g
Strawberry
10g
Raspberry
10g
Baobab Fruit
10g
Tart Cherry
10g
Bilberry
10g
Blueberry
10g
Acerola
10g
Blackberry
10g
Cranberry
10g
Pomegranate
10g
Acai Berry
10g
Vitamin C
2500mg
*Values provided are per 10g serving
Ingredients
Powder extracts: Beetroot 250gr, Goji Berry 200gr, Strawberry75, Raspberry 75gr, Baobab Fruit 70gr, Tart Cherry 70gr, Bilberry 70gr, Blueberry 40gr, Acerola 40gr, Blackberry 30gr, Cranberry 30gr, Pomegranate 20gr, Acai Berry 20gr, Vitamin C 10gr