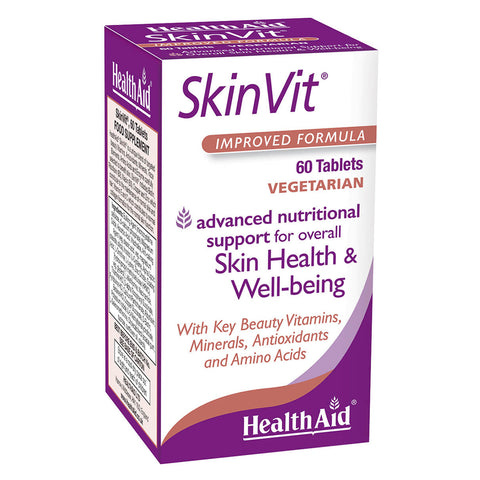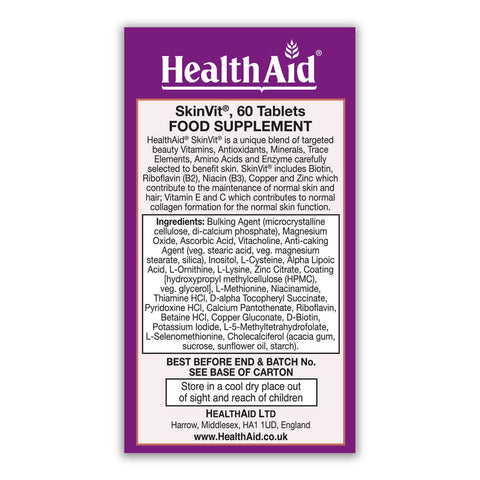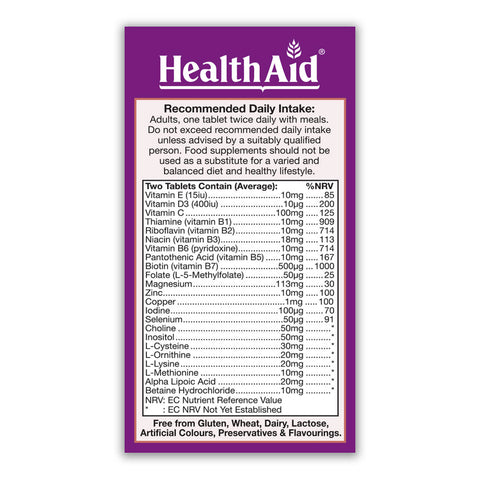 ---
---
HealthAid® SkinVit is a specially formulated dietary supplement designed to address the challenges posed by modern lifestyles, including soil depletion, stress, stimulant use and a diet high in refined foods. These factors can contribute to nutrient deficiencies that disrupt the body's ability to maintain healthy skin. SkinVit is a comprehensive blend of Vitamins, Minerals, Antioxidants, Trace Elements, Amino Acids and Digestive Enzymes, designed to combat problematic skin. 
By providing a comprehensive blend of essential nutrients, HealthAid® SkinVit aims to support and enhance skin health. Regular supplementation with SkinVit may help contribute to a healthier, more radiant complexion. 
Benefits
Recommended Daily Intake
Adults, one tablet twice daily with meals. Do not exceed recommended daily intake unless advised by a suitably qualified person.
Free From
Free from Gluten, Wheat, Dairy, Lactose, Artificial Colours, Preservatives and Flavourings.
Nutritional Information
SkinVit® Tablets contains (average):
Ingredient
Value
%NRV
Vitamin E (15iu)
10 mg
85
Vitamin D3 (400iu)
10 μg
200
Vitamin C
100 mg
125
Thiamine (vitamin B1)
10 mg
909
Riboflavin (vitamin B2)
10 mg
714
Niacin (vitamin B3)
18 mg
113
Vitamin B6 (pyridoxine)
10 mg
714
Pantothenic Acid (vitamin B5)
10 mg
167
Biotin (vitamin B7)
500 μg
1000
Folate (L-5-Methylfolate)
50 μg
25
Magnesium
113 mg
30
Zinc
10 mg
100
Copper
1 mg
100
Iodine
100 μg
70
Selenium
50 μg
91
Choline
50 mg
*
Inositol
50 mg
*
L-Cysteine
30 mg
*
L-Ornithine
20 mg
*
L-Lysine
20 mg
*
L-Methionine
10 mg
*
Alpha Lipoic Acid
20 mg
*
Betaine Hydrochloride
10 mg
*
NRV: EC Nutrient Reference Value
*: EC Nutrient Reference Value Not Yet Established
Ingredients
Bulking Agent (microcrystalline cellulose, di-calcium phosphate), Magnesium Oxide, Ascorbic Acid, Vitacholine, Anti-caking Agent (veg. stearic acid, veg. magnesium stearate, silica), Inositol, L-Cysteine, Alpha Lipoic Acid, L-Ornithine, L-Lysine, Zinc Citrate, Coating [hydroxypropyl methylcellulose (HPMC), veg. glycerol], L-Methionine, Niacinamide, Thiamine HCl, D-alpha Tocopheryl Succinate, Pyridoxine HCl, Calcium Pantothenate, Riboflavin, Betaine HCl, Copper Gluconate, D-Biotin, Potassium Iodide, L-5-Methyltetrahydrofolate, L-Selenomethionine, Cholecalciferol (acacia gum, sucrose, sunflower oil, starch).