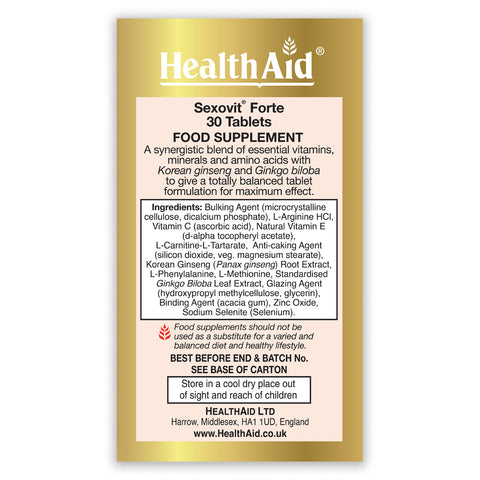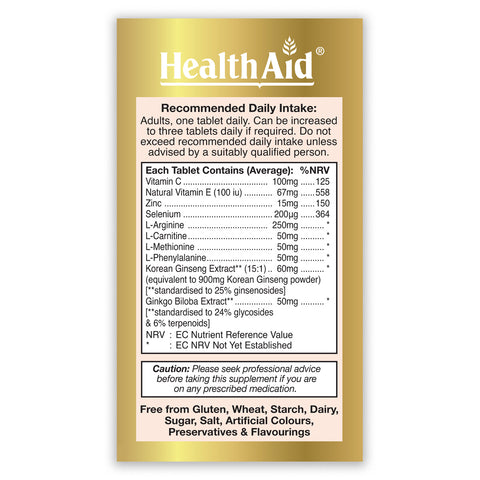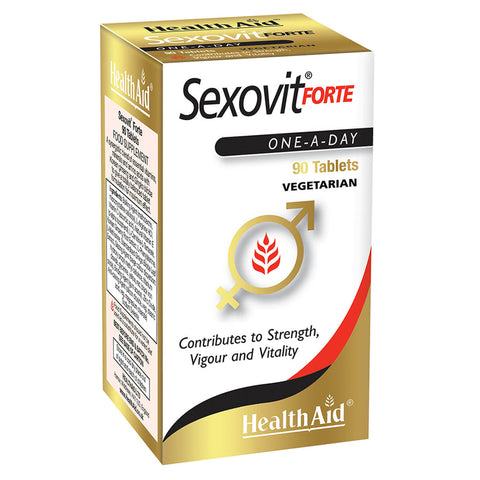 ---
---
Sexovit Forte tablets are a harmonious blend of essential Vitamins, Minerals and Amino Acids, plus botanical extracts formulated for strength, vigour, drive and sexual energy. The ingredients have been chosen to provide supreme sexual health support and for their contributions to various aspects of general health and well-being.  
Sexovit Forte contains Ginseng and Ginkgo Biloba, which are known for their potential contributions to various aspects of well-being, including their role in promoting energy, circulation and cognitive function. Vitamin C contributes to the reduction of tiredness and fatigue. Zinc contributes to the maintenance of normal testosterone levels and normal fertility and reproduction. Testosterone is a key hormone linked to various aspects of male sexual health and vitality. Selenium contributes to normal sperm formation, which is essential for male reproductive health. Vitamin E protects cells from damage caused by oxidative stress. Amino Acids such as L-arginine help relax blood vessels and improve blood flow. 
Benefits
Recommended Daily Intake
Adults, one tablet daily. Can be increased to three tablets daily if required. Do not exceed recommended daily intake unless advised by a suitably qualified person.
Free From
Free from Gluten, Wheat, Starch, Dairy, Sugar, Salt, Artificial Colours, Preservatives and Flavourings.
Nutritional Information
Sexovit Forte Tablets contains (average):
| Nutrient | Value | %NRV |
| --- | --- | --- |
| Vitamin C | 100mg | 125 |
| Natural Vitamin E (100iu) | 67mg | 558 |
| Zinc | 15mg | 150 |
| Selenium | 200μg | 364 |
| L-Arginine | 250mg | * |
| L-Carnitine | 50mg | * |
| L-Methionine | 50mg | * |
| L-Phenylalanine | 50mg | * |
| Korean Ginseng Extract**(15:1) | 60mg | * |
| Ginkgo Biloba Extract** | 50mg | * |
*: EC Nutrient Reference Value Not Yet Established
Ingredients
Ingredients Ingredients: Bulking Agent (microcrystalline cellulose, dicalcium phosphate), L-Arginine HCl, Vitamin C (ascorbic acid), Natural Vitamin E (d-alpha tocopheryl acetate), L-Carnitine-L-Tartarate, Anti-caking Agent (silicon dioxide, veg. magnesium stearate), Korean Ginseng (Panax ginseng) Root Extract, L-Phenylalanine, L-Methionine, Standardised Ginkgo Biloba Leaf Extract, Glazing Agent (hydroxypropyl methylcellulose, glycerin), Binding Agent (acacia gum), Zinc Oxide, Sodium Selenite (Selenium).