Selenium 200ug - Prolonged Release Tablets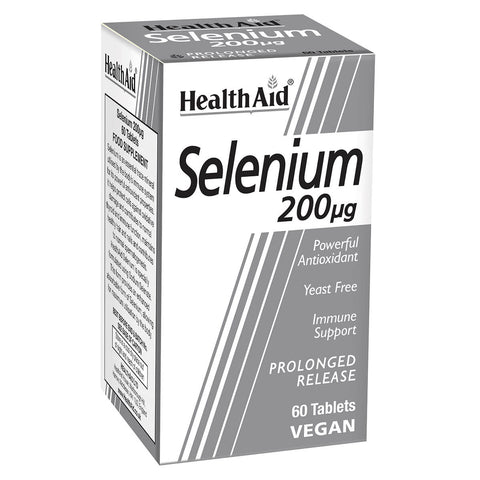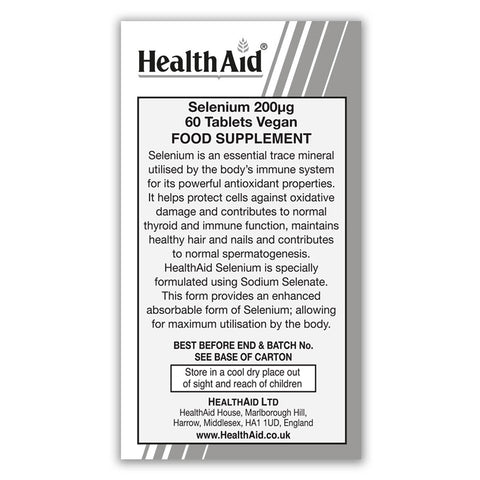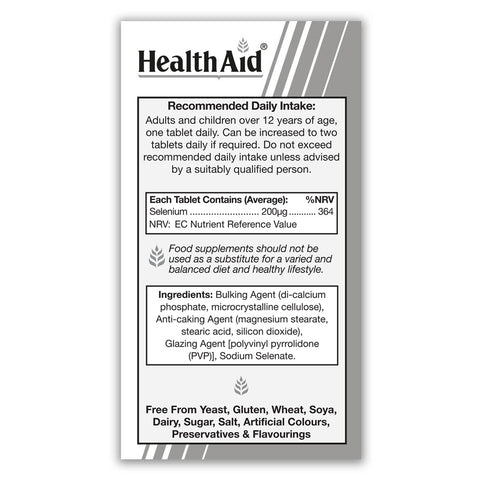 ---
---
Selenium 200µg Prolonged Release Tablets contain Selenium, which is an essential trace mineral utilised by the body's immune system for its powerful antioxidant properties. It contributes to the protection of tissue cells against oxidative damage caused by free radicals and contributes to normal thyroid and immune function, maintenance of healthy hair and nails, and normal spermatogenesis.
HealthAid® Selenium is specially formulated using Sodium Selenate. This form provides an enhanced absorbable form of Selenium; allowing for maximum utilisation by the body.
Benefits
Recommended Daily Intake
Adults and children over 12 years of age, one tablet daily. Can be increased to two tablets daily if required. Do not exceed recommended daily intake unless advised by a suitably qualified person.
Free From
** Free From Yeast, Gluten, Wheat, Soya, Dairy, Sugar, Salt, Artificial Colours, Preservatives & Flavourings
Nutritional Information
Selenium 200ug - Prolonged Release Tablets contains (average):
Nutrient
Value
%NRV
Selenium
200µg
364
*: EC Nutrient Reference Value Not Yet Established
Ingredients
Bulking Agent (di-calcium phosphate, microcrystalline cellulose), Anti-caking Agent (magnesium stearate, stearic acid, silicon dioxide), Glazing Agent [polyvinyl pyrrolidone (PVP)], Sodium Selenate.