Sarsaparilla 560mg Tablets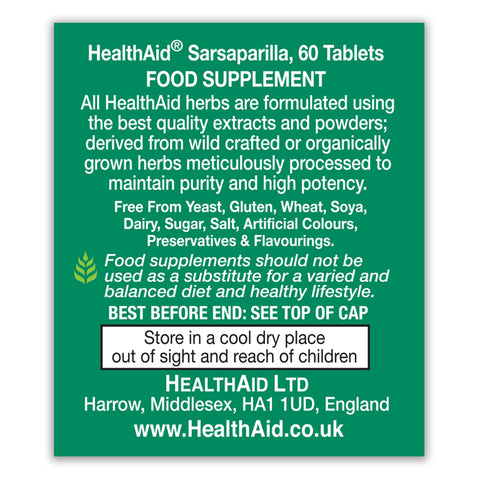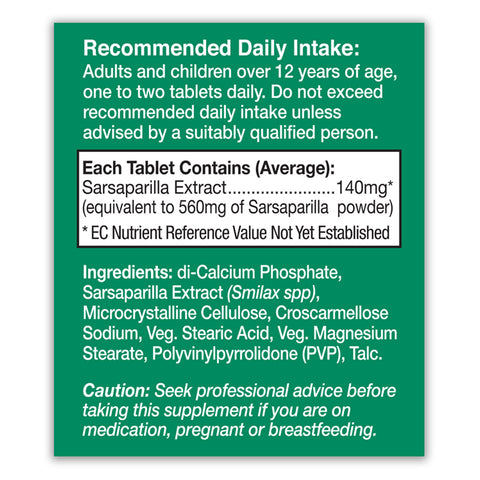 ---
---
Sarsaparilla 560mg Tablets are formulated using the best quality extracts and powders; derived from wild crafted or organically grown herbs meticulously processed to maintain purity and high potency.
Benefits
Recommended Daily Intake
** Free From Yeast, Gluten, Wheat, Soya, Dairy, Sugar, Salt, Artificial Colours, Preservatives & Flavourings.
Nutritional Information
Sarsaparilla 560mg Tablets contains (average):
Nutrient
Value
%NRV
Sarsaparilla Extract
(equivalent to 560mg of Sarsaparilla powder)
140mg*
*: EC Nutrient Reference Value Not Yet Established
Ingredients
di-Calcium Phosphate, Sarsaparilla Extract (smilax spp), Microcrystalline Cellulose, Croscarmellose Sodium, Veg. Stearic Acid, Veg. Magnesium Stearate, Polyvinylpyrrolidone (PVP), Talc.