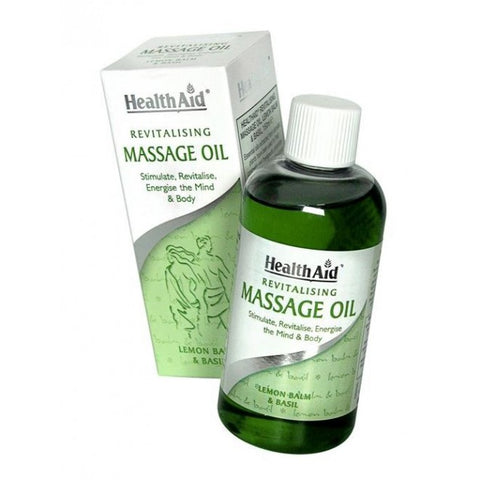 ---
---
Essential oils extracted from aromatic plants have been used for their cosmetic and therapeutic properties for over 3000 years, a practice known today as aromatherapy. A full body massage is highly beneficial to lessen tiredness, stress and tension. It provides absolute relaxation to the body, soothes muscles and allows the mind to drift into a peaceful, luxurious and calming mood. HealthAid® pure, non-greasy revitalising massage oil combines aromatic lemon balm, Basil, peppermint & Rosemary which is perfect to stimulate, energise, revitalise and awaken all the senses in the body.
Benefits
How to Use
Apply Revitalising Massage Oil sparingly to the appropriate area and gently massage until fully absorbed; suitable for the face, hands and body.
Nutritional Information
Revitalising Massage Oil contains (average):
Ingredients
Corn Oil (Zea Mays), Almond Oil (Prunus amygdalus dulcis), Parfum, Lemon Balm Oil (Melissa Officianalis), Basil Oil (Ocimum basilicum),Peppermint Oil (Mentha Piperata), Rosemary Oil (Rosemarinus Officinalis), Pattigrain Oil (Citrus aurantium), Butylated Hydroxyanisole, Propyl Gallate, citric acid, Propylene Glycol.