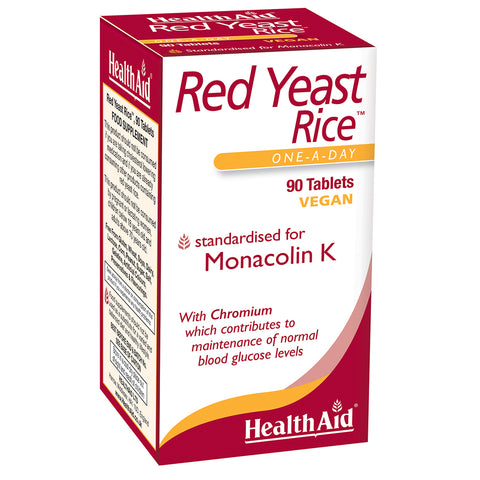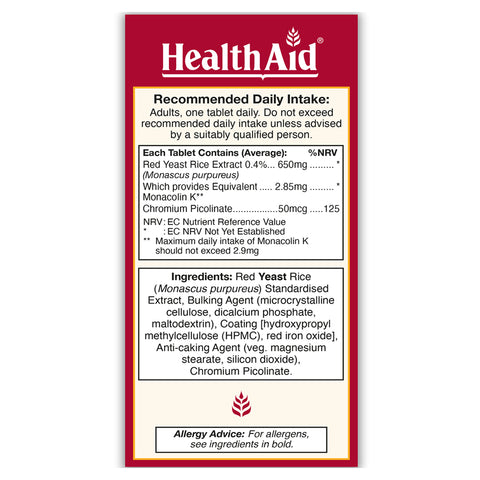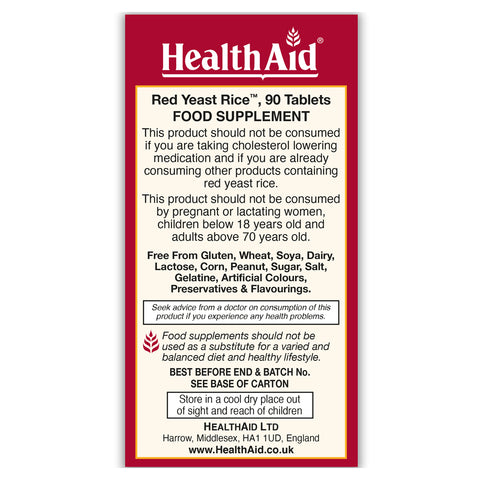 ---
---
Red Yeast Rice is a substance extracted from rice that has been fermented with a type of yeast called Monascus purpureus. It is a very popular food in Asian countries where it has been traditionally used for centuries to benefit health. Active compounds called Monacolins, most importantly Monacolin K (also known as lovastatin), are naturally-occurring HMG-CoA inhibitors found in Red Yeast Rice.
It also contains natural Sterols (Beta-sitosterol and Campesterol), Isoflavones, and Monounsaturated Fatty Acids ("healthy fats"). HealthAid® Red Yeast Rice is fortified with Chromium which contributes to the maintenance of normal blood glucose levels.
Recommended Daily Intake
Adults, one tablet daily. Do not exceed recommended daily intake unless advised by a suitably qualified person.
Nutritional Information
Red Yeast Rice Tablets contains (average):
Nutrient
Value
%NRV
Red Yeast Rice Extract (Monascus purpureus)
650mg
*
Equiv. Monacolin-K**
2.85mg
*
Chromium Picolinate
50mcg
125%
*: EC Nutrient Reference Value (NRV) Not Yet Established
**: Maximum daily intake of Monacolin K should not exceed 2.9mg
Ingredients
Red Yeast Rice (Monascus purpureus) Standardised Extract, Bulking Agent (microcrystalline cellulose, dicalcium phosphate, maltodextrin), Coating [hydroxypropyl methylcellulose (HPMC), red iron oxide], Anti-caking Agent (veg. magnesium stearate, silicon dioxide), Chromium Picolinate