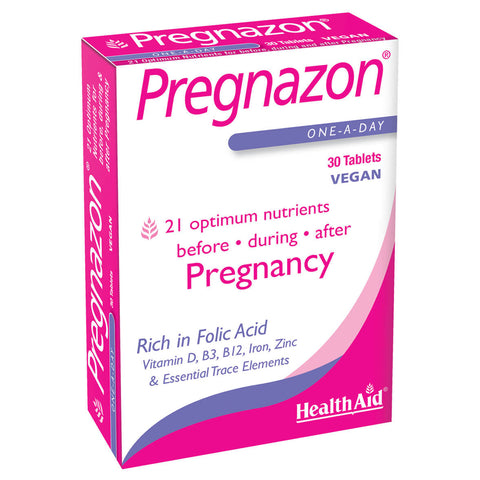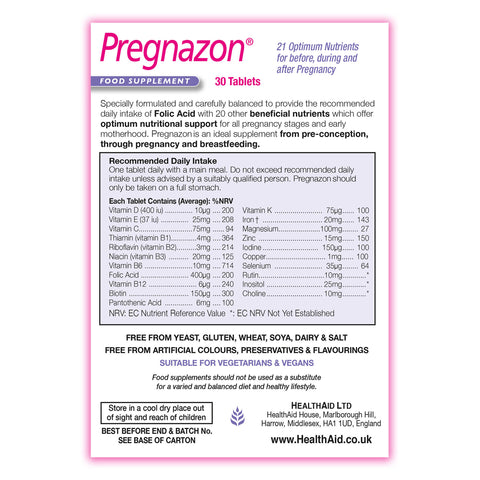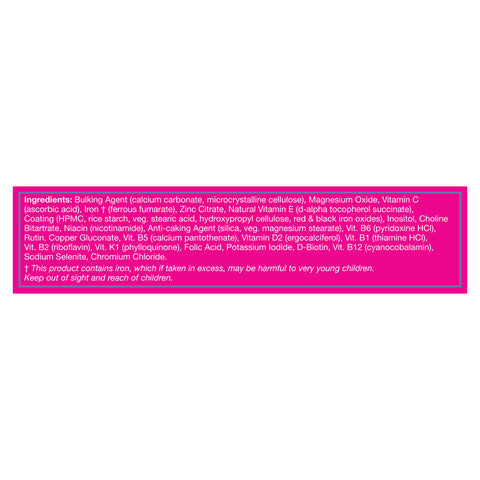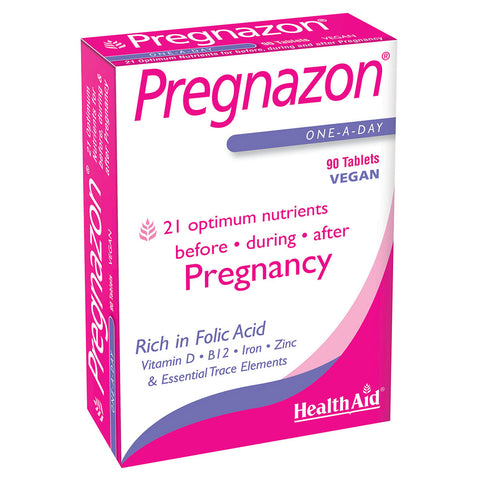 ---
---
During pregnancy the demands of a growing foetus can cause nutritional deficiencies or worsen existing ones, putting unborn babies at risk of developmental issues and birth defects. The same deficiencies make pregnant and breastfeeding women tired and contribute to low mood, hormonal imbalance, morning sickness and other problems.
Pregnazon® is a unique formula which provides optimum nutritional support from pre-conception, through all pregnancy stages and during breastfeeding. It contains carefully formulated and balanced 23 essential nutrients including Vitamins, Minerals, Trace Elements, and Antioxidants.

Benefits
Recommended Daily Intake
One Tablet daily with a main meal. Pregnazon® should only be taken on a full stomach. Do not exceed recommended daily intake unless advised by a suitably qualified person. Caution: This product contains iron, which if taken in excess, may be harmful to very young children.
Free From
Free from Dairy, Gelatine, Lactose, Yeast Soya, Nut Free from Artificial Colours, Preservatives, and Flavourings Suitable for Vegetarians and Vegans
Nutritional Information
Pregnazon® Tablets contains (average):
Nutrient
Value
%NRV
Vitamin D (400iu)
10mg
200
Vitamin E (37iu)
25mg
208
Vitamin C
75mg
94
Thiamin (vitamin B1)
4mg
364
Riboflavin (vitamin B2)
3mg
214
Niacin (vitamin B3)
20mg
125
Vitamin B6
10mg
714
Folic Acid
400mg
200
Vitamin B12
6mg
240
Biotin
150mg
300
Pantothenic Acid
6mg
100
Vitamin K
75mg
100
Iron
20mg
143
Magnesium
100mg
27
Zinc
15mg
150
Iodine
150mg
100
Copper
1mg
100
Selenium
35mg
64
Rutin
10mg
*
Inositol
25mg
*
Choline
10mg
*
*: EC Nutrient Reference Value Not Yet Established
Ingredients
Bulking Agent (calcium carbonate, microcrystalline cellulose), Magnesium Oxide, Vitamin C (ascorbic acid), Iron † (ferrous fumarate), Zinc Citrate, Natural Vitamin E (d-alpha tocopherol succinate), Coating (HPMC, rice starch, veg. stearic acid, hydroxypropyl cellulose, red & black iron oxides), Inositol, Choline Bitartrate, Niacin (nicotinamide), Anti-caking Agent (silica, veg. magnesium stearate), Vit. B6 (pyridoxine HCl), Rutin, Copper Gluconate, Vit. B5 (calcium pantothenate), Vitamin D2 (ergocalciferol), Vit. B1 (thiamine HCl), Vit. B2 (riboflavin), Vit. K1 (phylloquinone), Folic Acid, Potassium Iodide, D-Biotin, Vit. B12 (cyanocobalamin), Sodium Selenite, Chromium Chloride. This product contains iron, which if taken in excess, may be harmful to very young children. Keep out of sight and reach of children.