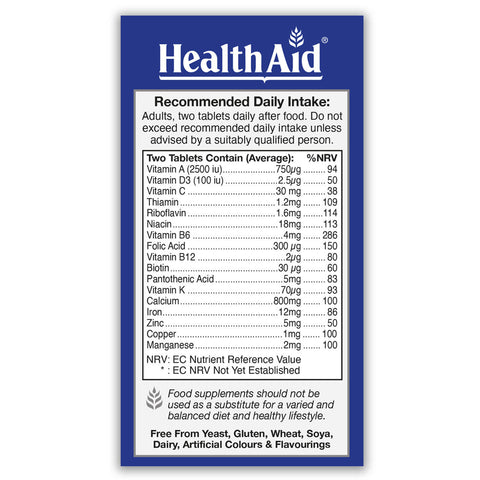 ---
---
Osteovit® has been specially developed and formulated using a special blend of Calcium, balanced in a complex Vitamin and Mineral base to provide a product that works synergistically for maximum absorption and utilisation by the body. OsteoVit® provides 800mg of Calcium. For maximum bone support, Vitamin A, Vitamin B, Vitamin C, Vitamin D, Vitamin K, and Minerals like Zinc, Iron, Magnesium, Manganese and Copper are also included in the formulation.
Benefits
Recommended Daily Intake
Adults, two tablets daily after food. Do not exceed recommended daily intake unless advised by a suitably qualified person.
Free From
Free from added Sugar and Salt Free from Corn, Dairy, Gelatine, Lactose, Yeast, Gluten, Wheat, Soya, and Nut Free from Artificial Colours, Preservatives and Flavourings Suitable for Vegetarians
Nutritional Information
Osteovit® Tablets contains (average):
| Nutrient | Value | %NRV |
| --- | --- | --- |
| Vitamin A (2500 iu) | 750µg | 94 |
| Vitamin D (100 iu) | 2.5µg | 50 |
| Vitamin C | 30 mg | 38 |
| Thiamin | 1.2mg | 109 |
| Riboflavin | 1.6mg | 114 |
| Niacin | 18mg | 113 |
| Pantothenic Acid | 5mg | 83 |
| Vitamin B6 (Pyridoxine HCl) | 4mg | 286 |
| Vitamin B12 (Cynocobalamin) | 2µg | 80 |
| Folic Acid (Folacin) | 300µg | 150 |
| Vitamin K (Phytonadione) | 70µg | 93 |
| Biotin | 30µg | 60 |
| Calcium | 800mg | 100 |
| Iron | 12mg | 86 |
| Zinc | 5mg | 50 |
| Copper | 1mg | 100 |
| Manganese | 2mg | 100 |
| * | EC Nutrient Reference Value Not Yet Established | |
Ingredients
Calcium (calcium carbonate), Bulking Agent (di-calcium phosphate, acacia gum), Binding Agent (microcrystalline cellulose, maltodextrin), Anti-caking Agent (veg. stearic acid, veg. magnesium stearate), Stabiliser (sodium carboxymethyl cellulose), Magnesium Oxide, Iron (ferrous fumarate), Vitamin C (ascorbic acid), Coating [hydroxypropyl methylcellulose (HPMC), calcium carbonate, polydextrose, talc, medium chain triglycerides, concentrates (radish, apple, black currant)], Niacin (niacinamide), Zinc (zinc sulphate), Pantothenic Acid (calcium pantothenate), Vitamin B6 (pyridoxine HCl), Manganese (manganese sulphate), Riboflavin (vitamin B2), Thiamine HCl (vitamin B1), Copper (cupric sulphate), Vitamin A (acetate), Folic Acid, Vitamin K (phytonadione),D-Biotin, Vitamin D3 (cholecalciferol),Vitamin B12 (cyanocobalamin)