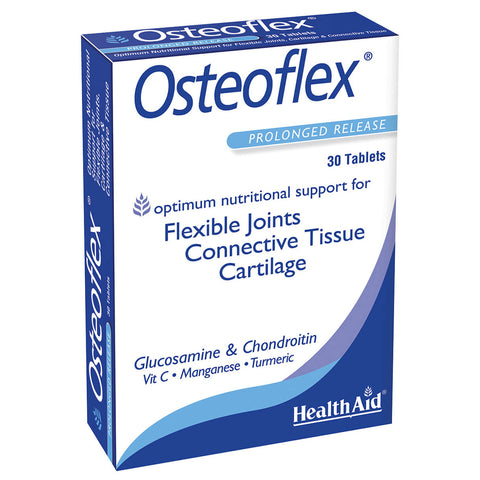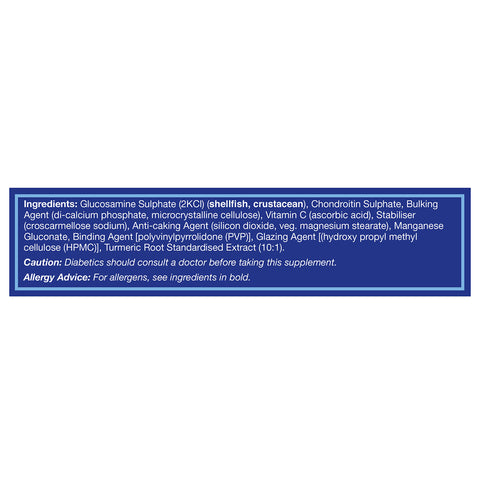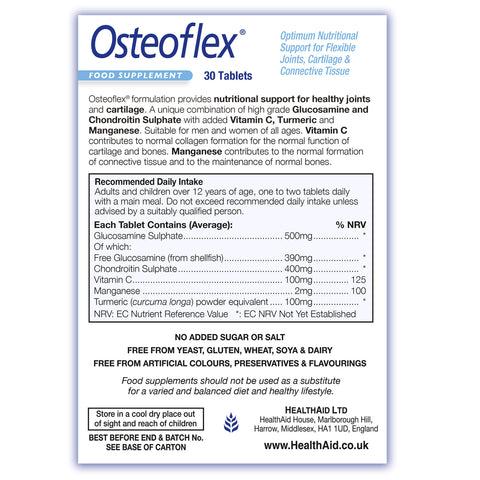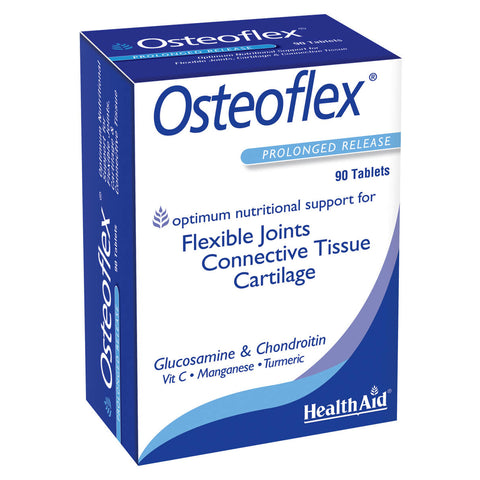 ---
---
As we age our joints begin to stiffen, bones begin to soften and you may lose your bounce. When climbing stairs or getting in and out of the car becomes a struggle, your joints are crying out for some help. There is a solution, a unique formulation of important nutrients to put the spring back.  
Osteoflex® provides nutritional support for healthy joints and cartilage, being a unique combination of high-quality Glucosamine and Chondroitin Sulphate with added Vitamin C, Turmeric and Manganese. Vitamin C contributes to normal collagen formation for the normal function of cartilage and bones. Manganese contributes to the normal formation of connective tissue and to the maintenance of normal bones. Turmeric has potent natural anti-inflammatory properties. 
Benefits
Recommended Daily Intake
Adults and children over 12 years of age, one to two tablets daily with a main meal. Do not exceed recommended daily intake unless advised by a suitably qualified person.
Free From
Free From Yeast, Gluten, Wheat, Soya, Dairy, Artificial Colours, Preservatives and Flavourings, No Added Sugar or Salt.
Nutritional Information
Osteoflex® Tablets contains (average):
| Nutrient | Value | %NRV |
| --- | --- | --- |
| Glucosamine Sulphate | 500mg | * |
| Free Glucosamine (from shellfish) | 390mg | * |
| Chondroitin Sulphate | 400mg | * |
| Vitamin C | 100mg | 125 |
| Manganese | 2mg | 100 |
| Turmeric (Curcuma longa) powder equivalent | 100mg | * |
| * | EC Nutrient Reference Value Not Yet Established | |
Ingredients
Glucosamine Sulphate (2KCl), Chondroitin Sulphate, Bulking Agent (di-calcium phosphate, microcrystalline cellulose), Vitamin C (ascorbic acid), Stabiliser (croscarmellose sodium), Anti-caking Agent (silicon dioxide, veg. magnesium stearate), Manganese Gluconate, Binding Agent [polyvinylpyrrolidone (PVP)], Glazing Agent [(hydroxy propyl methyl cellulose (HPMC)], Turmeric Root Standardised Extract (10:1).