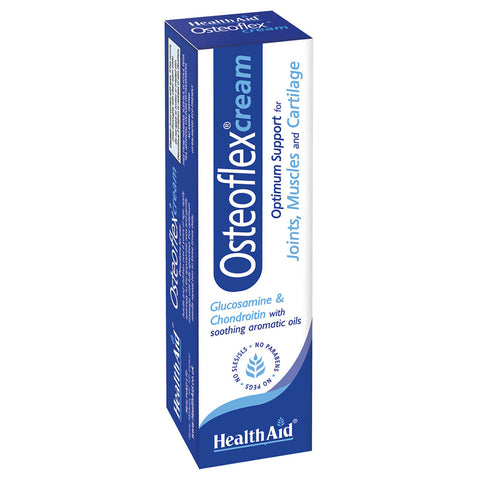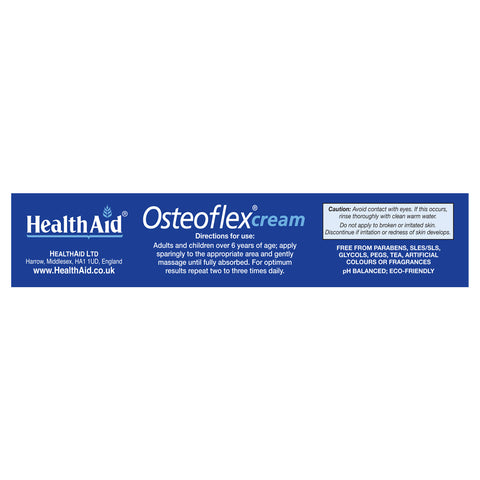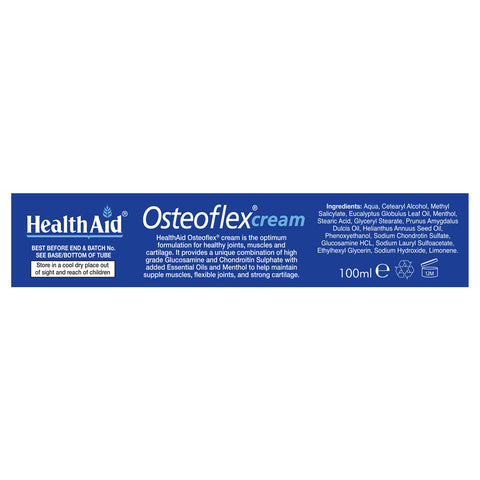 ---
---
Osteoflex Cream by HealthAid® is the optimum formulation for healthy joints and cartilage. It provides a unique combination of high grade Glucosamine and Chondroitin Sulphate with added essential oil and menthol to help maintain supple, flexible joints, and strong cartilage.
Recommended Daily Intake
Adults and children over 12 years of age; apply sparingly to the appropriate area and gently massage until fully absorbed. For optimum results repeat two-three times daily. Avoid contact with eyes. If this occurs, rinse thoroughly with clean warm water. Do not apply to broken or irritated skin Discontinue if irritation or redness of skin develops For external use ONLY. Store in a cool dry place away from direct sunlight; out of sight and reach of children.
Free From
Free from Glycols, SLES/SLS, Parabens, TEA, PEG's, Free from Artificial Colours and Fragrance. No animal based products or animal testing Ph balanced Eco-friendly
Nutritional Information
Osteoflex® Cream contains (average):
Ingredients
Aqua Cetearyl Alcohol Methyl Salicylate Almond Oil Eucalyptus Oil Menthol Stearic Acid Glyceryl Stearate Phenoxyethanol Chondroitin Sulphate D-Glucosamine Ethylhexylglycerin Sodium Hydroxide Limonene