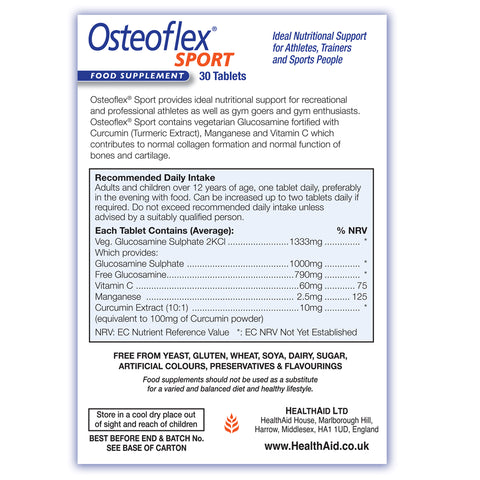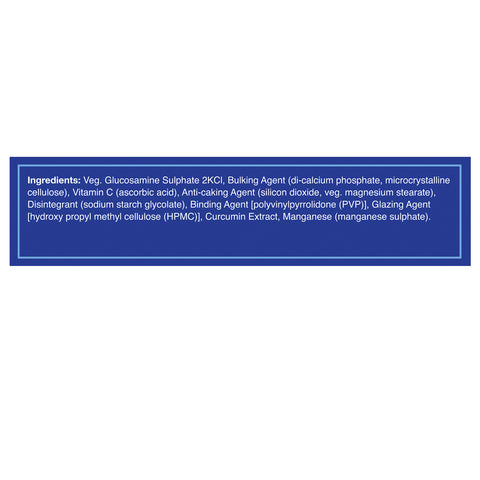 ---
---
Bone constitutes the fundamental part of our joints. For movements to be smooth and joints to be flexible there must be a layer of cushioning and lubrication between the bones. This layer is made up of a shock-absorbing tissue called cartilage and a natural fluid called synovial fluid. Healthy cartilage and synovial fluid make it possible for joints to move easily and comfortably.
Osteoflex® Sport provides ideal nutritional joint health support for recreational and professional athletes as well as gym goers and all physically active people. It contains vegetarian Glucosamine fortified with Vitamin C, Manganese, and Curcumin (Turmeric Extract). Vitamin C contributes to collagen formation crucial for the function of cartilage and bones, which is important for the growth and repair of connective tissue.
Glucosamine is present in relatively high concentrations in the joints and connective tissues, and is necessary for cartilage repair and maintenance. It helps cartilage to be more flexible. Manganese is an important mineral that contributes to the maintenance of normal bones and connective tissue formation. Turmeric is a natural anti-inflammatory agent which has been known to be beneficial for those who want to maintain joint health.
Benefits
Recommended Daily Intake
Recommended Daily Intake: Adults and children over 12 years of age, one tablet daily, preferably in the evening with food. Can be increased up to two tablets daily if required. Do not exceed recommended daily intake unless advised by a suitably qualified person.

Food supplements should not be used as a substitute for a varied and balanced diet and healthy lifestyle. All and any changes to your diet and supplement regime should first be cleared with your personal medical professional. This description should not be taken as medical advice, a doctor should be consulted for any medical issues. Allergy information: For allergens, see ingredients in bold. Do not take this product if allergic to shellfish.
Nutritional Information
Osteoflex® Sport contains (average):
Nutrient
Value
%NRV
Veg. Glucosamine Sulphate 2Kcl
1333mg
*
Glucosamine Sulphate
1000mg
*
Free Glucosamine
790mg
*
Vitamin C
60mg
75
Manganese
2.5mg
125
Curcumin extract (10:1)
(equivalent to 100mg of Curcumin powder)
10mg
NRV: EC Nutrient reference Value
*: NRV Not Yet Established
Ingredients
Veg. Glucosamine Sulphate 2KCl, Bulking Agent (di-calcium phosphate, microcrystalline cellulose), Vitamin C (ascorbic acid), Anti-caking Agent (silicon dioxide, veg. magnesium stearate), Disintegrant (sodium starch glycolate), Binding Agent [polyvinylpyrrolidone (PVP)], Glazing Agent [hydroxy propyl methyl cellulose (HPMC)], Curcumin Extract, Manganese (manganese sulphate).