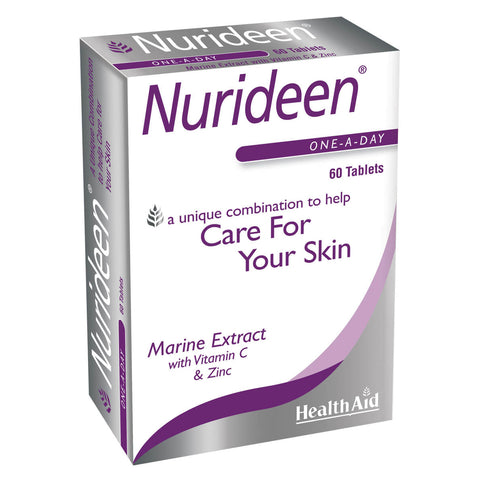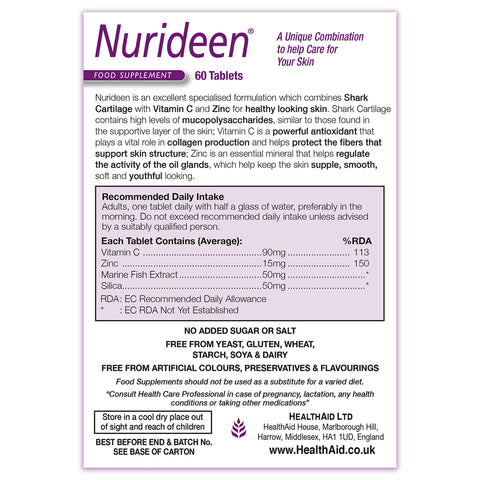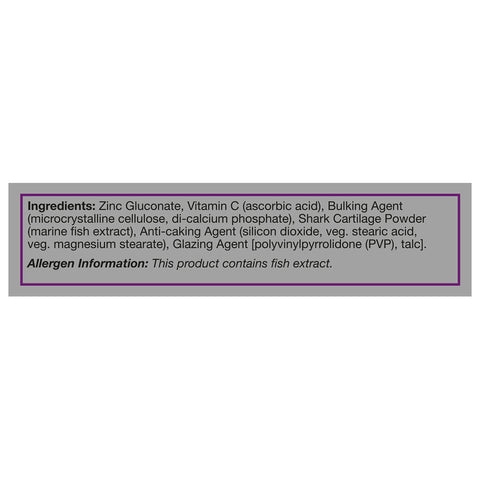 ---
---
Nurideen Tablets are an excellent specialized formulation which combines Shark Cartilage, Vitamin C and Zinc for healthy looking skin. Shark Cartilage contains high levels of mucopolysaccharides, similar to those found in the supportive layer of the skin; Vitamin C is a powerful antioxidant that plays a vital role in collagen production; Zinc is an essential mineral that helps regulate the activity of the oil glands, which help keep the skin supple, smooth, soft and youthful looking.
Benefits
Recommended Daily Intake
One tablet daily (preferably mornings) with half a glass of water. To realise the product's full potential - take for at least 3 months.
Free From
** NO ADDED SUGAR OR SALT ** FREE FROM YEAST, GLUTEN, WHEAT, STARCH, SOYA & DAIRY ** FREE FROM ARTIFICIAL COLOURS, PRESERVATIVES & FLAVOURINGS
Nutritional Information
Nurideen®Tablets contains (average):
| Nutrient | Value | %NRV |
| --- | --- | --- |
| Vitamin C | 90mg | 113 |
| Zinc | 15mg | 150 |
| Marine Fish Extract | 50mg | * |
| Silica | 50mg | * |
*: EC Nutrient Reference Value Not Yet Established
Ingredients
Zinc Gluconate, Vitamin C (ascorbic acid), Bulking Agent (microcrystalline cellulose, di-calcium phosphate), Shark Cartilage Powder (marine fish extract), Anti-caking Agent (silicon dioxide, veg. stearic acid, veg. magnesium stearate), Glazing Agent [polyvinylpyrrolidone (PVP), talc].