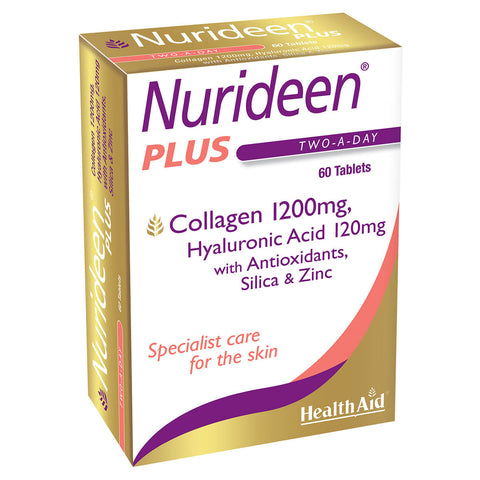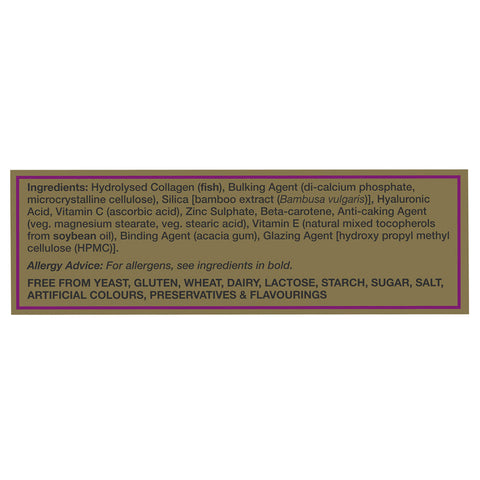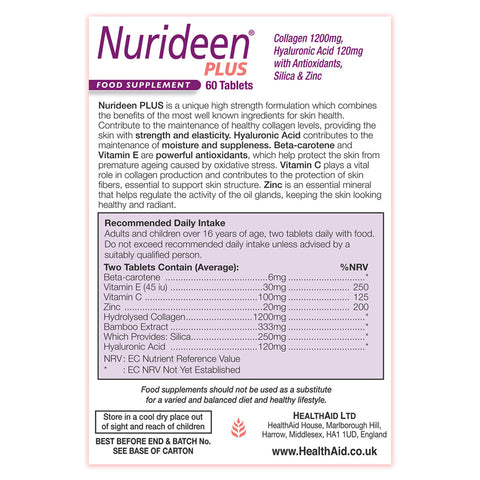 ---
---
Nurideen® Plus is specially formulated with extensively researched ingredients to ensure the best results for your skin health. Hydrolysed collagen and silica help promote healthy levels of collagen which provides the skin with strength and elasticity. Vitamin C also plays a role in collagen production and may help protect skin fibres, supporting skin structure. Zinc, Beta Carotene and Vitamin E, all powerful antioxidants, which protect the skin cells from oxidative stress. Hyaluronic acid helps to maintain moisture and suppleness.
Benefits
Recommended Daily Intake
Adults and children over 16 years of age, two tablets daily with food. Do not exceed recommended daily intake unless advised by a suitably qualified person.
Free From
Free from Yeast, Gluten, Wheat, Dairy, Lactose, Starch, Sugar, Salt, Artificial Colours, Preservatives and Flavourings.
Nutritional Information
Nurideen Plus Tablets contains (average):
Ingredients
Amount
%NRV
Beta-carotene
6mg
*
Vitamin E
30mg
250
Vitamin C
100mg
125
Zinc
20mg
200
Hydrolysed Collagen
1200mg
*
Bamboo Extract
333mg
*
Silica (from Bamboo Extract)
250mg
*
Hyaluronic Acid
120mg
*
NRV: EC Nutrient Reference Value
*: EC Nutrient Reference Value Not Yet Established
Ingredients
Hydrolysed Collagen (fish), Bulking Agent (di-calcium phosphate, microcrystalline cellulose), Silica [bamboo extract (bambusa arundicea)], Hyaluronic Acid, Vitamin C (ascorbic acid), Zinc Sulphate, Beta-carotene, Anti-caking Agent (veg. magnesium stearate, veg. stearic acid), Vitamin E (natural mixed tocopherols from soybean oil), Binding Agent (acacia gum), Glazing Agent [hydroxy propyl methyl cellulose (HPMC)].