MSM 1000mg (MethylSulphonylMethane) Tablets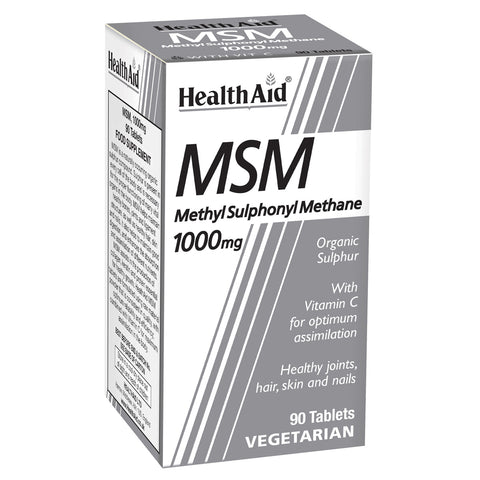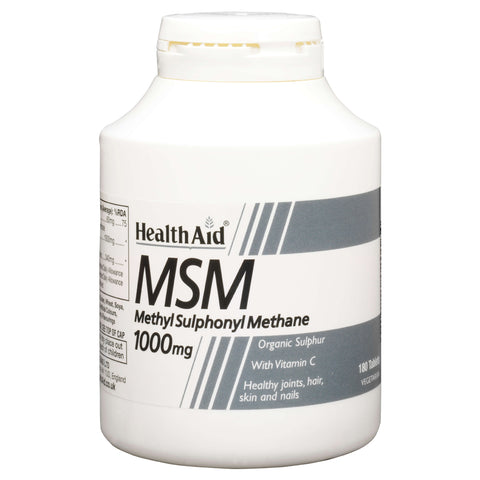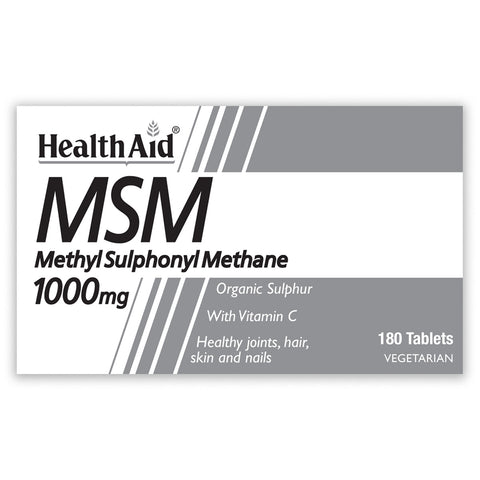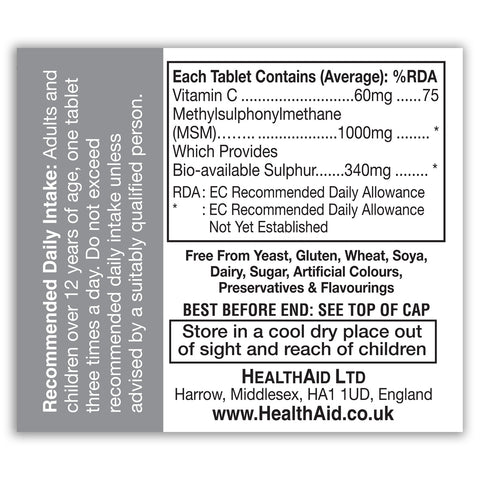 ---
---
MSM is a naturally occurring organic sulphur compound. Sulphur is present in every cell of the body and is necessary for the proper functioning of vital organs, respiratory and immune systems. MSM is a vital building block of joints, cartilage, skin, hair and nails and methyl groups, which support many vital biochemical processes in the body, including energy production. 

HealthAid® MSM Tablets are formulated using superior raw material powder to provide a product that is easily and readily absorbed by the body for maximum effect. 
Benefits
Recommended Daily Intake
Adults and children over 12 years of age, one tablet three times a day. Do not exceed recommended daily intake unless advised by a suitably qualified person.
Free From
Free From Yeast, Gluten, Wheat, Soya, Dairy, Sugar, Artificial Colours, Preservatives and Flavourings.
Nutritional Information
MSM 1000mg (MethylSulphonylMethane) Tablets contains (average):
Nutrient
Value
%NRV
Methylsulfonylmethane (MSM)
1000mg
*
Providing Bioavailable Sulphur
340mg
*
Vitamin C Preparation
60mg
75
NRV: EC Nutrient Reference Value
Ingredients
Methylsulphonylmethane (MSM), Bulking Agent (microcrystalline cellulose), Vitamin C (ascorbic acid), Anti-caking Agent (veg.stearic acid, veg.magnesium stearate, magnesium silicate), Stabiliser (crosscarmellose sodium), Binding Agent [polyvinylpyrrolidone (PVP), ethylcellulose, oleic acid], Glazing Agent (triacetin, acetylated monoglyceride, polyethylene glycol).