Mosquito & Insect Repellent Spray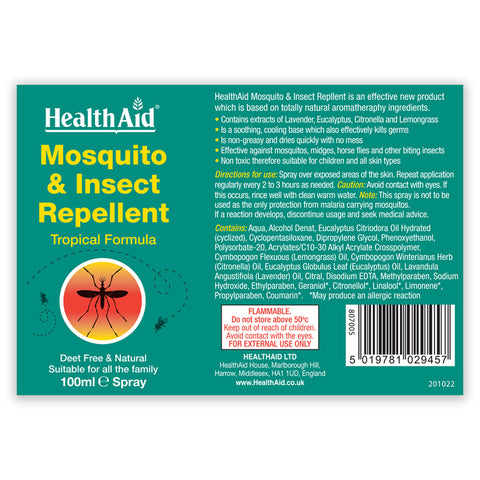 ---
---
Mosquito and Insect Repellent is an effective new product which is based on totally natural aromatherapy ingredients.
Contains extracts of lavender, Eucalyptus, Citronella and Lemongrass
Is a soothing, cooling base which also effectively kills germs
Is non-greasy and dries quickly with no mess
Effective against mosquitoes, midges, horse flies and other biting insects
Non-toxic therefore suitable for children and all skin types
How to Use
Spray overexposed areas of the skin Repeat application regularly Note: This spray is not to be used as the only protection from malaria-carrying mosquitoes. If a reaction develops, discontinue the usage and seek medical advice.
Nutritional Information
Mosquito & Insect Repellent Spray contains (average):
Ingredients
Ethanol Water Glycerin Carbomer Oils of citronella (cymbopogan nardus) Eucalyptus (Eucalyptus globulus), Lavender (Lavendula angustifolia), Lemongrass (Cymbopogan flexuosus)