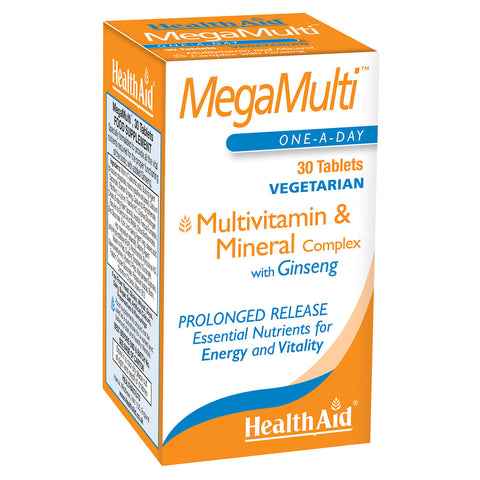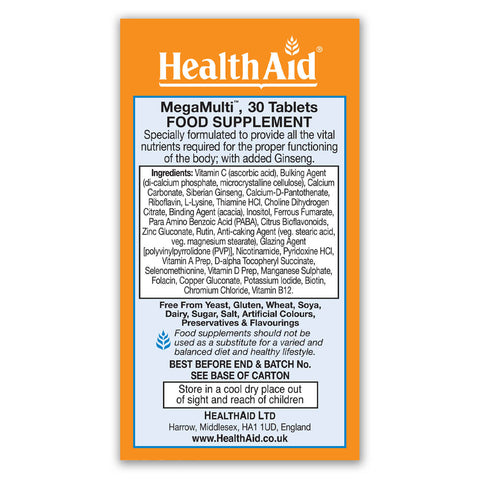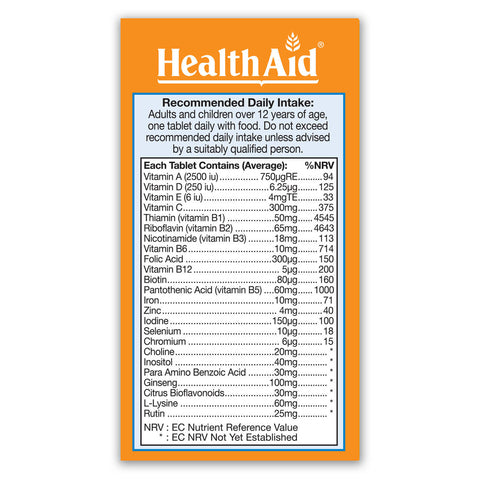 ---
---
The demands placed upon people living in this century leading busy lifestyles, with no time to prepare nutritious meals, people often resort to convenience foods which are usually high in fat, and overcooked meals which destroy the vital vitamins and minerals essential to maintain good health. This is why Mega-Multi (with Ginseng) Tablets are formulated providing a balance of vitamins, minerals, herbs, trace elements and enzymes to safeguard your daily nutrient intake.
Benefits
Recommended Daily Intake
Adults and children over 12 years of age, one tablet daily with meals. Do not exceed recommended daily intake unless advised by a suitably qualified person.
Free From
** Free from Yeast, Gluten, Wheat, Dairy, Soya, Sugar, Salt, Artificial Colours, Flavourings and Preservatives.
Nutritional Information
Mega-Multi's Tablets contains (average):
Nutrition
Each Tablet Contains (Avg.)
%NRV
Vitamin A (2500iu)
750µg RE
94
Vitamin D (250iu)
6.25µg
125
Vitamin E (6iu)
4mg TE
33
Vitamin C
300mg
375
Vitamin B1
50mg
4545
Vitamin B2
65mg
4643
Vitamin B3
18mg
113
Vitamin B6
10mg
714
Folacin
300µg
150
Vitamin B12
5µg
200
Biotin
80µg
160
Pantothenic Acid (Vitamin B5)
60mg
1000
Iron
10mg
71
Zinc
4mg
40
Iodine
150µg
100
Choline
20mg
*
Chromium
6µg
50
Inositol
40mg
*
Manganese
270µg
*
Para Amino Benzoic Acid
30mg
*
Selenium
10µg
18
Citrus Bioflavonoids
30mg
*
Rutin
25mg
*
Ginseng
100mg
*
L-Lysine
60mg
*
*: EC Nutrient Reference Value Not Yet Established
Ingredients
Vitamin C (ascorbic acid), di-Calcium Phosphate, Calcium Carbonate, Microcrystalline Cellulose, Siberian Ginseng, Calcium-D-Pantothenate, Riboflavin, L Lysine, Thiamine HCl, Choline Dihydrogen Citrate, Acacia, Inositol, Ferrous Fumarate, Para Amino Benzoic Acid (PABA), Citrus Bioflavonoids, Zinc Gluconate, Rutin, Veg. Stearic Acid, Veg. Magnesium Stearate, Clear Coating: Polyvinyl Pyrolidone (PVP), Nicotinamide, Pyridoxine HCl, Vitamin A prep, D-alpha Tocopheryl Succinate, Selenomethionine, Vitamin D prep, Manganese Sulphate, Folacin, Copper Gluconate, Potassium Iodide, Biotin, Chromium Chloride, Vitamin B12.