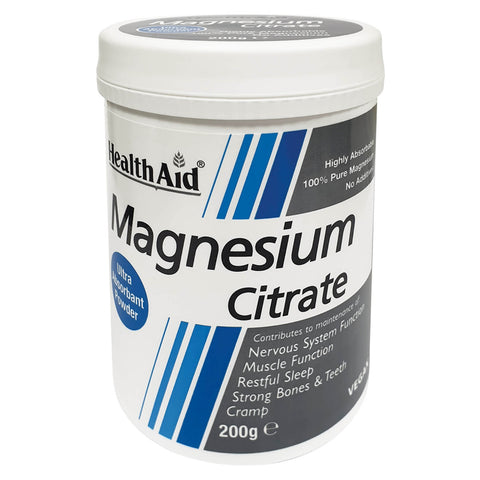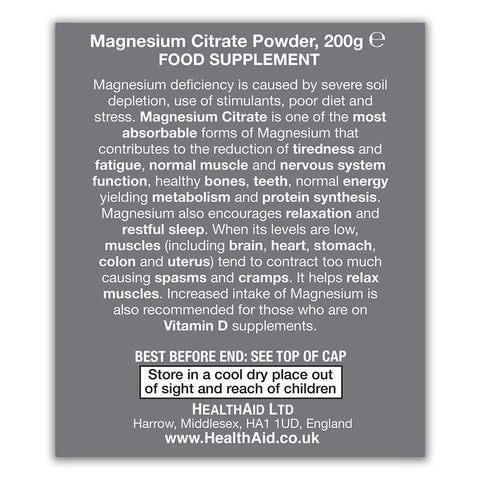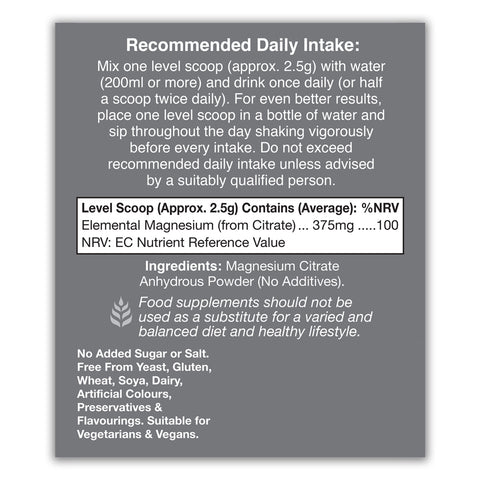 ---
---
Magnesium is an essential nutrient necessary for the optimal functioning of the nervous system, muscle function, strong bones and strong teeth, normal energy-yielding metabolism, protein synthesis and electrolyte balance. Magnesium also contributes to a reduction of tiredness and fatigue and normal psychological function. Magnesium's role in contributing to normal muscle function may help with restful and rejuvenating sleep. Magnesium Citrate is a form of Magnesium that is bound to a citrate molecule and is regarded as one of the most absorbable forms of Magnesium.  
HealthAid® Magnesium Citrate Powder is completely free from any additives and contains only pure Magnesium Citrate Powder in its best anhydrous form. 200g of HealthAid® Magnesium Citrate Powder contains 375mg of elemental magnesium per dose. The word "elemental" refers the amount of Magnesium actually absorbed by the body. HealthAid® pure Magnesium Citrate Powder can be mixed with food, water, or any liquid. 
Benefits
Recommended Daily Intake
Mix one level scoop (approx. 2.5g) with water (200ml or more) and drink once daily (or half a scoop twice daily). For even better results, place one level scoop in a bottle of water and sip throughout the day shaking vigorously before every intake. Do not exceed recommended daily intake unless advised by a suitably qualified person.
Free From
Free From Yeast, Gluten, Wheat, Soya, Dairy, Artificial Colours, Preservatives and Flavourings, No Added Sugar or Salt.
Nutritional Information
Magnesium Citrate Powder contains (average):
Ingredients
Amount
%NRV
Elemental Magnesium (from Citrate)
375mg
100
NRV: EC Nutrient Reference Value
*: EC Nutrient Reference Value Not Yet Established
Ingredients
Magnesium Citrate Anhydrous Powder (No Additives).