Magnesium Bisglycinate 375mg Tablets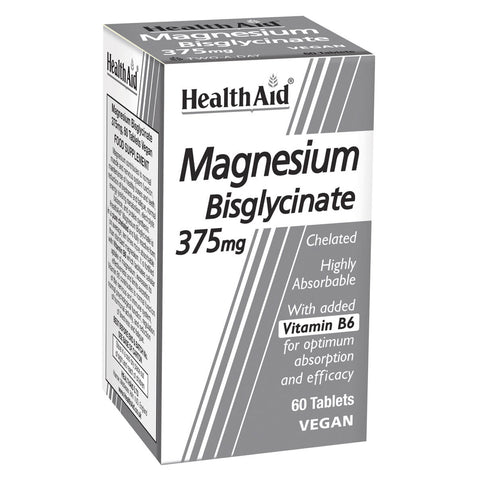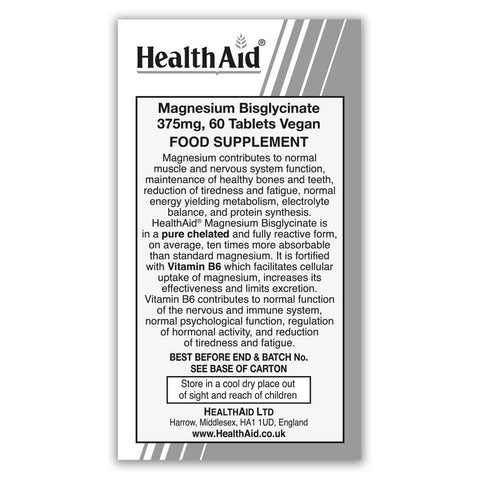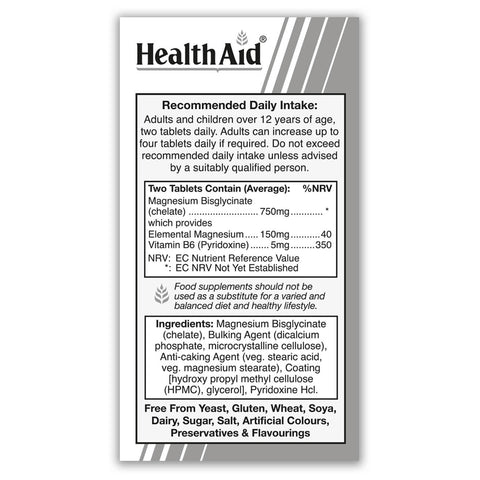 ---
---
Magnesium is an essential nutrient necessary for the optimal functioning of the nervous system, muscle function, strong bones and strong teeth, normal energy-yielding metabolism, protein synthesis and electrolyte balance. Magnesium also contributes to a reduction of tiredness and fatigue and normal psychological function. Magnesium's role in contributing to normal muscle function may help with restful and rejuvenating sleep. 
Magnesium Bisglycinate is Magnesium bound to an amino acid called Glycin, which facilitates the absorption of Magnesium. The body can absorb and utilise Magnesium more easily in this form. Magnesium Bisglycinate is paired with Vitamin B6, which assists in the absorption of Magnesium. Vitamin B6 contributes to normal cysteine synthesis, homocysteine, protein and glycogen metabolism, normal function of the immune system and the regulation of hormonal activity. 
Benefits
Recommended Daily Intake
Adults and children over 12 years of age, two tablets daily. Adults can increase up to four tablets daily if required. Do not exceed recommended daily intake unless advised by a suitably qualified person.
Free From
Free From Yeast, Gluten, Wheat, Soya, Dairy, Sugar, Salt, Artificial Colours, Preservatives and Flavourings.
Nutritional Information
Magnesium Bisglycinate 375mg Tablets contains (average):
Nutrient
Value
%NRV
Magnesium Bisglycinate (Chelate)
750mg
*
Elemental Magnesium
150mg
40
Vitamin B6 (Pyridoxine)
5mg
350
*: EC Nutrient Reference Value Not Yet Established
Ingredients
Magnesium Bisglycinate (chelate), Bulking Agent (dicalcium phosphate, microcrystalline cellulose), Anti-caking Agent (veg. stearic acid, veg. magnesium stearate), Coating [hydroxy propyl methyl cellulose (HPMC), glycerol], Pyridoxine Hcl.