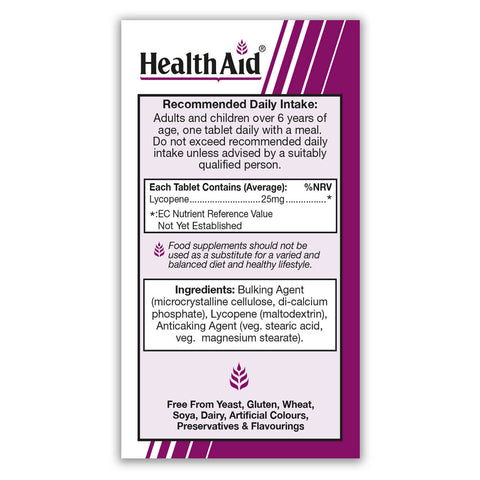 ---
---
Lycopene Tablets contain Lycopene, which is a member of the carotenoid family with powerful antioxidant properties. It is found in red fruits such as watermelon, guava and pink grapefruit and gives the rich red colour to tomatoes. In humans, it is one of the most abundant carotenoids utilized in blood serum and body tissue and is a more potent antioxidant than other major dietary carotenoids.
Recommended Daily Intake
Adults and children over 6 years of age, one tablet daily with a meal.Do not exceed recommended daily intake unless advised by a suitably qualified person.
Free From
** Free From Yeast, Gluten, Wheat, Soya, Dairy, Artificial Colours, Preservatives & Flavourings.
Nutritional Information
Lycopene 25mg Tablets contains (average):
Nutrient
Value
%NRV
Lycopene
25mg
*
*: EC Nutrient Reference Value Not Yet Established
Ingredients
Bulking Agent (di-calcium phosphate, microcrystalline cellulose), Anticaking Agent (corn starch, veg. stearic acid, silica, magnesium stearate, tri-calcium phosphate), Stabiliser (gelatin, crossmellose sodium), Sweetener (sucrose), Lycopene, Antioxidant (sodium ascorbate, DL-a-tocopherol, ascorbyl palmitate).