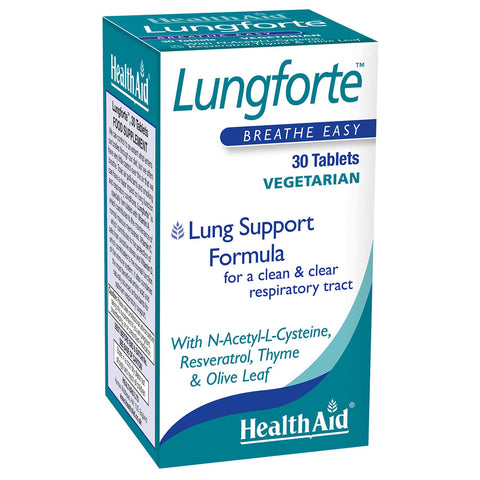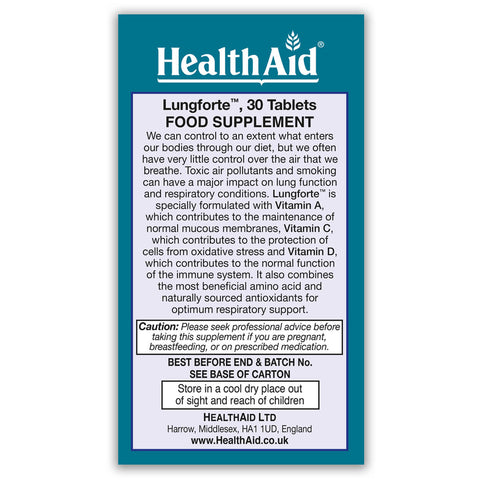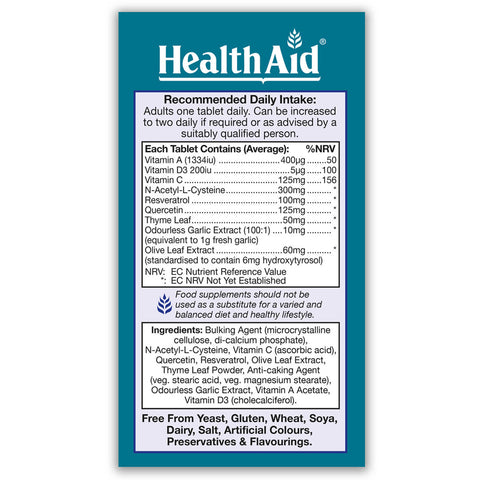 ---
---
We can control to an extent what enters our bodies through diet, but we often have very little control over the air that we breathe. Toxic air pollutants can potentially have a negative impact on lung function and respiratory conditions. Sometimes there are limited signs of reduced lung functionality. Indications that you might benefit from some nutritional support include a cough, trouble breathing, shortness of breath and wheezing. 
Lungforte™ tablets are specially formulated with Vitamin A, which contributes to the maintenance of normal mucous membranes, Vitamin C which contributes to the protection of cells from oxidative stress and Vitamin D, which contributes to the normal function of the immune system. It also combines the most beneficial Amino Acids and naturally sourced Antioxidants for optimum respiratory support. 
Benefits
Recommended Daily Intake
Adults one tablet daily. Can be increased to two daily if required or as advised by a suitably qualified person.
Free From
Free From Yeast, Gluten, Wheat, Soya, Dairy, Salt, Artificial Colours, Preservatives and Flavourings.
Nutritional Information
Lungforte™ Tablets contains (average):
Nutrient
Value
%NRV
Vitamin A (1334iu)
400µg
50
Vitamin D3 (200iu)
5µg
100
Vitamin C
125mg
156
N-Acetyl-L-Cysteine
300mg
*
Resveratrol
100mg
*
Quercetin
125mg
*
Thyme Leaf
50mg
*
Odourless Garlic Extract (100:1) (equivalent to 1g fresh garlic)
10mg
*
Olive Leaf Extract (standardised to contain 6mg hydroxytyrosol)
60mg
*
*: EC Nutrient Reference Value Not Yet Established
Ingredients
Bulking Agent (microcrystalline cellulose, di-calcium phosphate), N-Acetyl-L-Cysteine, Vitamin C (ascorbic acid), Quercetin, Resveratrol, Olive Leaf Extract, Thyme Leaf Powder, Anti-caking Agent (veg. stearic acid, veg. magnesium stearate), Odorless Garlic Extract, Vitamin A Acetate, Vitamin D3 (cholecalciferol).