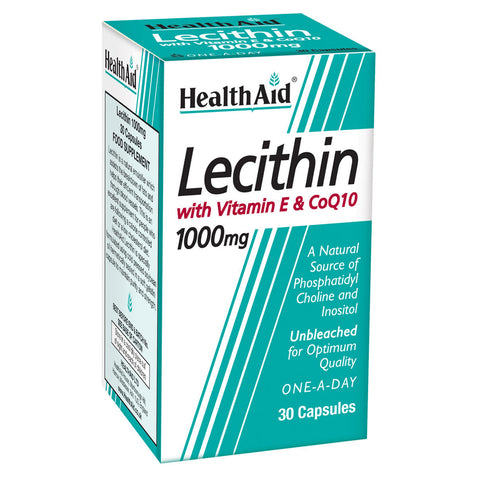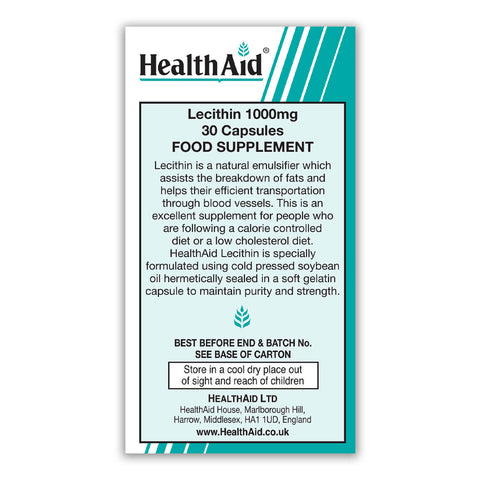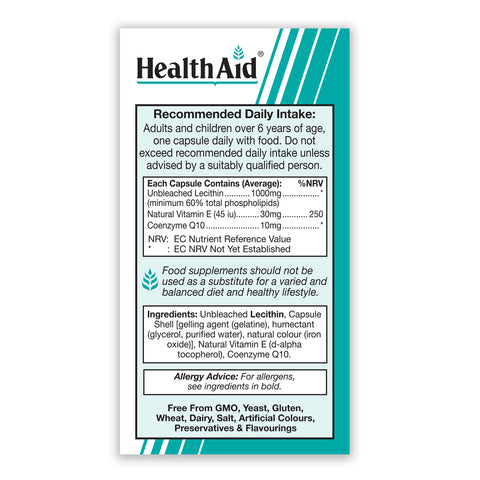 ---
---
Lecithin is formulated using cold pressed soybean oil. It is a natural emulsifier that assists in the breakdown of fats and transportation of fats through blood vessels. Lecithin is a rich source of Choline and Inositol. Choline and Inositol are lipotropins, which help burn excessive fat and contribute to homocysteine and lipid metabolism. Choline is a precursor to the neurotransmitter, acetylcholine, which plays a role in brain and muscle function. Inositol is a major component of cell membranes, which helps manage insulin and chemical messengers in the brain.  
Lecithin 1000mg contains added Vitamin E, which is a powerful antioxidant that provides protection of cells from oxidative stress and added Coenzyme Q10 (CoQ10), a compound that is made by the body and stored in the mitochondria within our cells, which plays a role in energy production. 
Benefits
Recommended Daily Intake
Adults and children over 6 years of age, one capsule daily with food. Do not exceed recommended daily intake unless advised by a suitably qualified person.
Free From
Free from GMO, Yeast, Gluten, Wheat, Dairy, Salt, Artificial Colours, Preservatives and Flavourings.
Nutritional Information
Lecithin 1000mg Capsules contains (average):
Ingredients
Amount
% NRV
Unbleached Lecithin (minimum 60% total phospholipids)
1000mg
*
Natural Vitamin E (45 iu)
30mg
250
Coenzyme Q10
10mg
*
NRV: EC Nutrient Reference Value*
*: EC Nutrient Reference Value Not Yet Established
Ingredients
Unbleached Lecithin, Capsule Shell [gelling agent (gelatine), humectant (glycerol, purified water), natural colours (titanium dioxide, red iron oxide)], Natural Vitamin E (d-alpha tocopherol), Coenzyme Q10.