L-Tyrosine 550mg + Vitamin B6 Tablets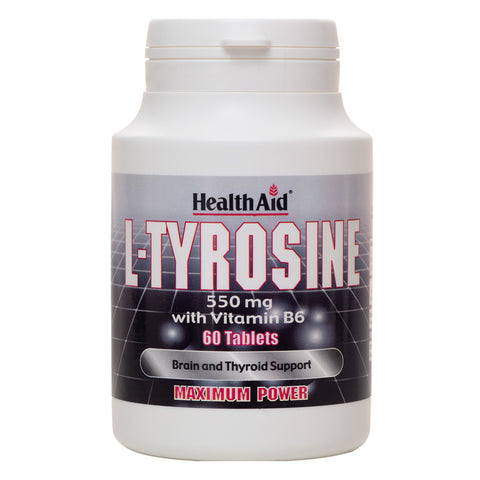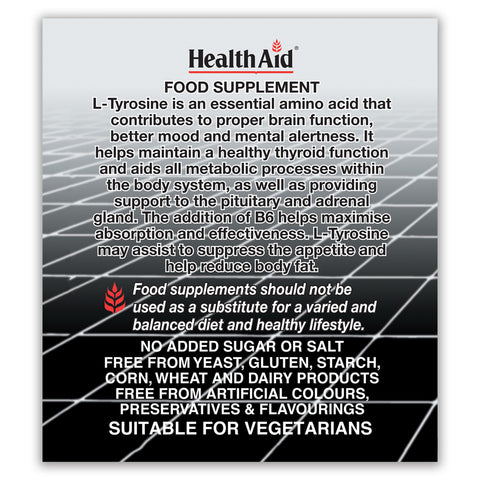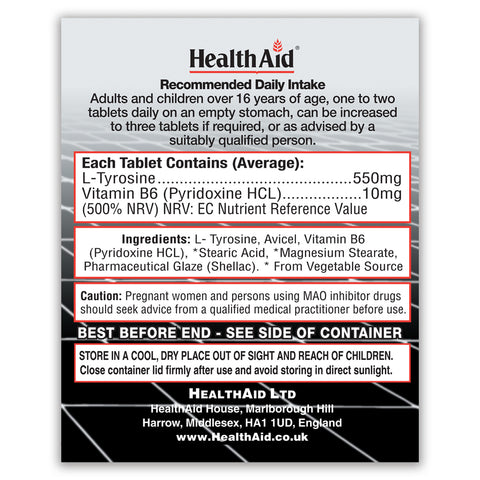 ---
---
L-Tyrosine Tablets contains L-Tyrosine, which is an amino acid essential for the maintenance of proper brain function and mental alertness. L-Tyrosine maintains a healthy thyroid function and aids all metabolic processes within the body system, as well as giving a rush to the pituitary and adrenal gland.
Benefits
Recommended Daily Intake
Adult and children over 16 years of age, one to two tablets daily on an empty stomach, can be increased to three if required. Do not exceed recommended daily intake unless advised by a suitably qualified person. Caution: Pregnant women and persons using MAO inhibitor drugs should seek advice from a qualified medical practitioner before use.
Free From
** Free From Sugar, Salt, Yeast, Gluten, Wheat, Dairy, Artificial Colours, Flavourings and Preservatives.
Nutritional Information
L-Tyrosine 550mg + Vitamin B6 Tablets contains (average):
| Nutrient | Value | %NRV |
| --- | --- | --- |
| L-Tyrosine | 550mg | * |
| Vitamin B6 (Pyridoxine HCL) | 10mg | 500 |
*: EC Nutrient Reference Value Not Yet Established
Ingredients
L-Tyrosine, Avicel, vitamin B6 (Pyridoxine HCL), *Stearic acid, *Magnesium Stearate, Pharmaceutical Glaze (Shellac). * From Vegetable Source.