L-Taurine 550mg+ Vitamin B6 Tablets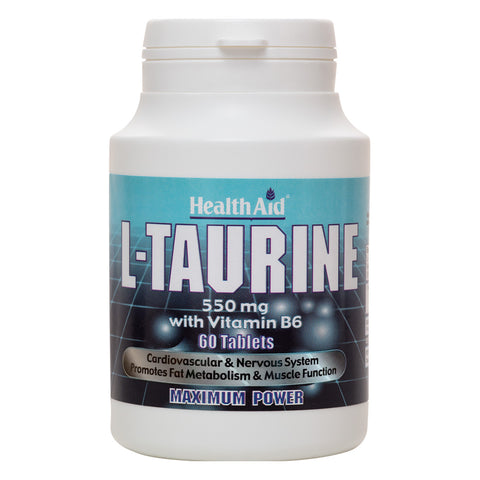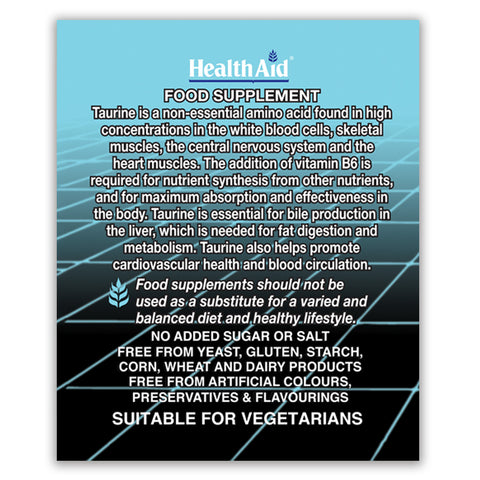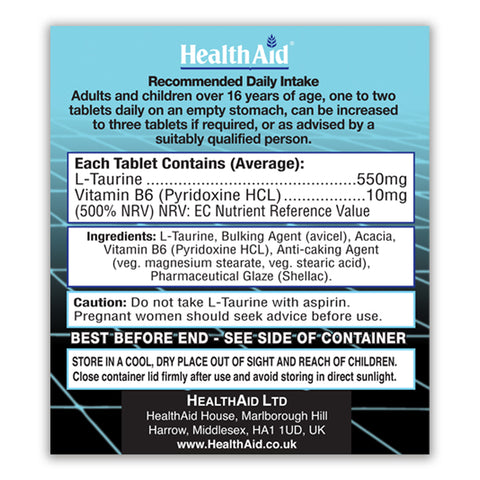 ---
---
Taurine is non essential amino acid found in high concentration in the white blood cells, skeletal muscles, the central nervous system and the heart muscle. The addition of vitamin B6 is required for nutrient synthesis from other nutrients, and for maximum absorption and effectiveness in the body. Taurine is essential for bile production in the liver, which is needed for fat digestion and metabolism. Taurine also contributes to the maintanance of normal cholesterol levels, blood pressure and a healthy cardiovascular system.
Benefits
Recommended Daily Intake
Adult and children over 16 years of age, one to two tablets daily on an empty stomach, or as advised by a suitably qualified person. Caution: Do not take L-Taurine with aspirin. Pregnant women should seek advice before use.
Free From
** Free From Sugar, Salt, Gluten, Wheat, Dairy, Yeast, Artificial Colours, Preservatives and Flavourings.
Nutritional Information
L-Taurine 550mg+ Vitamin B6 Tablets contains (average):
| Nutrient | Value | %NRV |
| --- | --- | --- |
| L-Taurine | 550mg | * |
| Vitamin B6 (Pyridoxine HCl) | 10mg | 500 |
*: EC Nutrient Reference Value Not Yet Established
Ingredients
L-Taurine, Avicel, Vitamin B6, (Pyridoxine HCL), *Magnesium Stearate, *Stearic Acid, Pharmaceutical Glaze(Shellac). *From Vegetable Source