L-Glutathione 250mg Tablets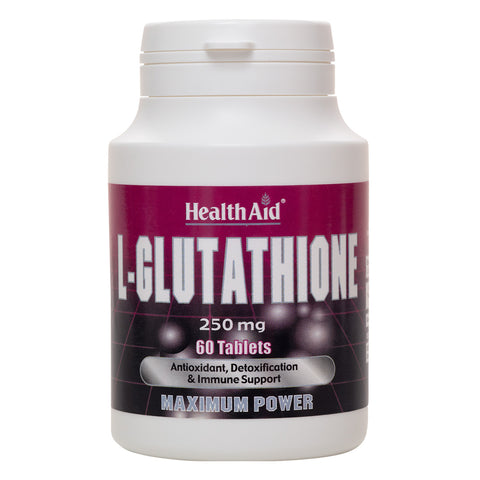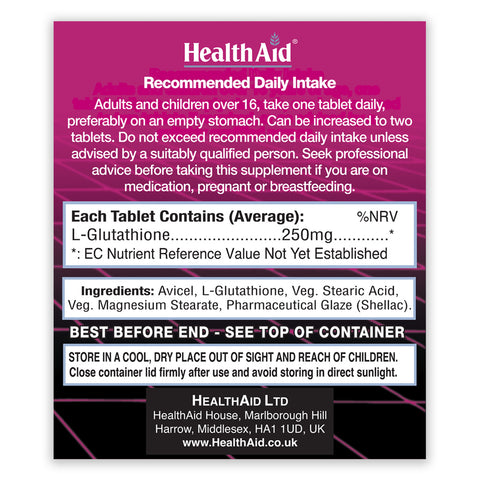 ---
---
L-Glutathione is an amino acid and a most powerful antioxidant naturally found in human body. Due to its potency and ability to reactivate other antioxidants, it is known as the "king of all antioxidants". Antioxidants reduce oxidative damage caused by free radicals we get from toxins, unhealthy foods, or stress. These free radicals contribute to tiredness, weak immunity, faster ageing rate, and cardiovascular problems. L-Glutathione is one of the HealthAid®'s premium-quality supplemental antioxidants designed to assist liver detoxification, sugar metabolism, strong immunity, skin, brain, and cardiovascular health.
Benefits
Recommended Daily Intake
Adults and children over 16, take one tablet daily, preferably on an empty stomach. Can be increased to two tablets. Do not exceed recommended daily intake unless advised by a suitably qualified person.
Seek professional advice before taking this supplement if you are on medication, pregnant or breastfeeding.
Free From
** Free From Wheat, Yeast, Gluten, Sugar, Salt, Dairy, Artificial Colours, Preservatives and Flavourings.
Nutritional Information
L-Glutathione 250mg Tablets contains (average):
| Nutrient | Value | %NRV |
| --- | --- | --- |
| L-Glutathione | 250mg | * |
*: EC Nutrient Reference Value Not Yet Established
Ingredients
Avicel, L-Glutathione, Veg. Stearic Acid, Veg. Magnesium Stearate, Pharmaceutical Glaze (Shellac).