L-Carnitine 550mg + Vitamin B6+ Chromium Tablets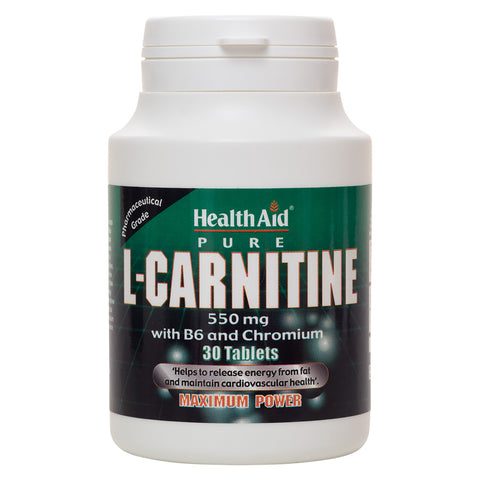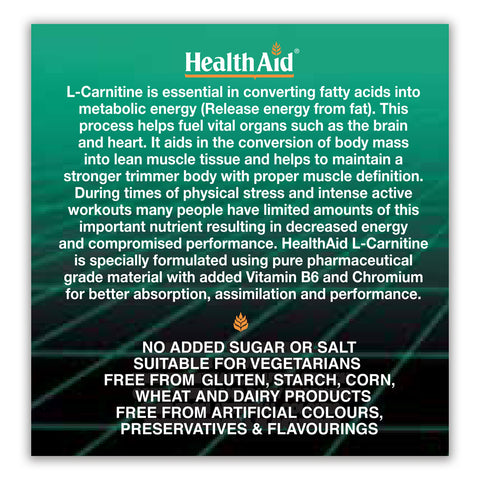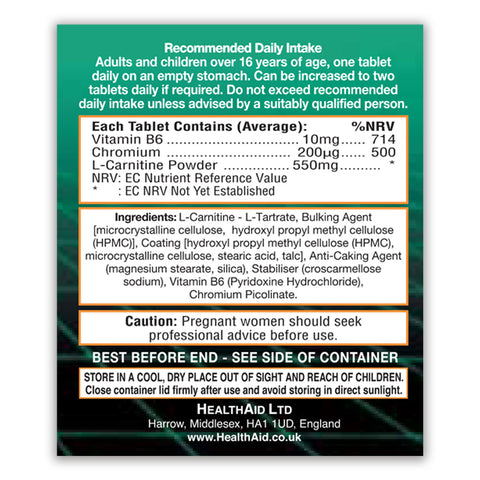 ---
---
L-Carnitine 550mg Tablets contain amino acid L-Carnitine which is essential in converting fatty acids into metabolic energy to releasing energy from fat. This process helps fuel vital organs such as the brain and heart. It also aids in the conservation of body mass into lean muscle tissue and helps to maintain a stronger, trimmer body with good muscle definition. During pregnancy, or when stressed or doing heavy workout or exercise, many people have limited amounts of this important nutrients resulting in decreased energy and compromised performance. HealthAid® L-Carnitine is specially formulated using pure pharmaceutical grade material for better absorption, assimilation and performance.
Benefits
Recommended Daily Intake
Adults and children over 16 years of age, one tablet daily on an empty stomach. Can be increased to two tablets daily if required. Do not exceed recommended daily intake unless advised by a suitably qualified person.
Free From
** Free From Yeast, Gluten, Wheat, Dairy, Sugar, Salt, Artificial Colours, Flavourings and Preservatives.
Nutritional Information
L-Carnitine 550mg + Vitamin B6+ Chromium Tablets contains (average):
| Nutrient | Value | %NRV |
| --- | --- | --- |
| L-Carnitine Powder | 550mg | * |
| Vitamin B6 (Pyridoxine HCL) | 10mg | 714 |
| Chromium | 200μg | 500 |
*: EC Nutrient Reference Value Not Yet Established
Ingredients
Bulking Agent (microcrystalline cellulose,di-calcium phosphate), L-Carnitine, Anti-caking Agent (veg. magnesium stearate, silica), Binding Agent (acacia gum), Stabiliser (crosscarmellose sodium), Vitamin B6 (pyridoxine hydrochloride), Chromium Polynicotinate, Pharmaceutical Glaze (shellac).