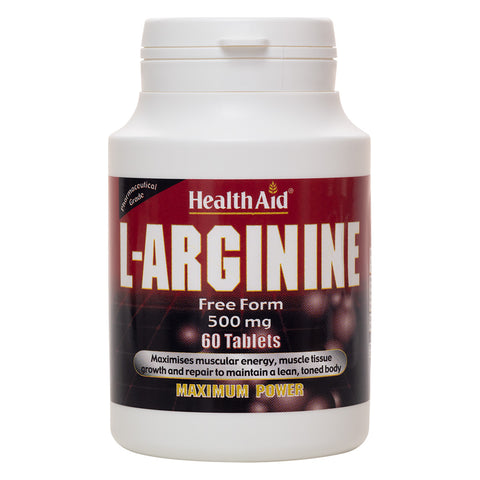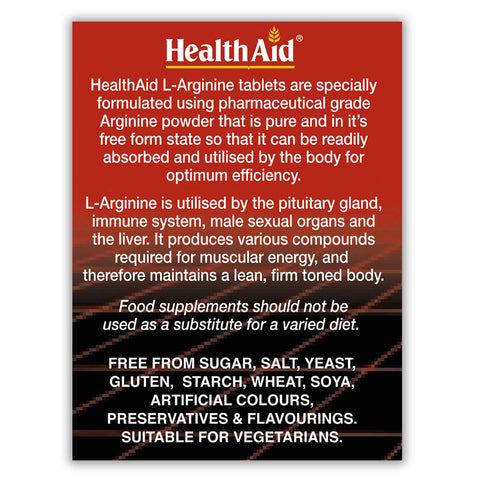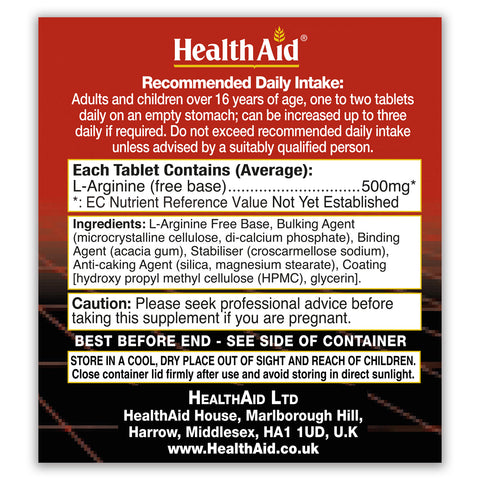 ---
---
L- Arginine Tablets contain L-Arginine, which is necessary for the execution of many physiological processes. These physiological processes include hormone secretion, an increase in growth hormone output, the removal of toxic waste products from the body, and immune system defences. One of the key health benefits of L-arginine is that it is used in the body to make a special gas called nitric oxide which dilates and relaxes blood vessels thus maintain normal blood pressure and contributes to the maintanance of healthy cardiovascular system.
Recommended Daily Intake
Adult and children over 16 years of age, one to two tablets daily on an empty stomach, can be increased to three if required. Do not exceed recommended daily intake unless advised by a suitably qualified person.
Free From
** Free from Yeast, Gluten, Sugar, Salt, Wheat, Soya, Artificial Colours, Preservatives and Flavourings.
Nutritional Information
L-Arginine 500mg Tablets contains (average):
| Nutrient | Value | %NRV |
| --- | --- | --- |
| L-Arginine | 500mg | * |
*: EC Nutrient Reference Value Not Yet Established
Ingredients
L-Arginine Free Base, Microcrystalline Cellulose, di-Calcium Phosphate, Crosslinked Sodium Carboxymethyl Cellulose, Silica, Veg. Magnesium Stearate, Coating: (Hydroxy Propyl Methyl Cellulose, Veg. Glycerin), Acacia Gum.