Koregin 3000 (Korean Ginseng) Capsules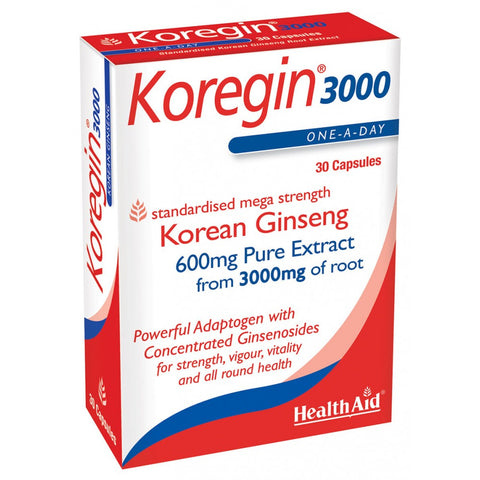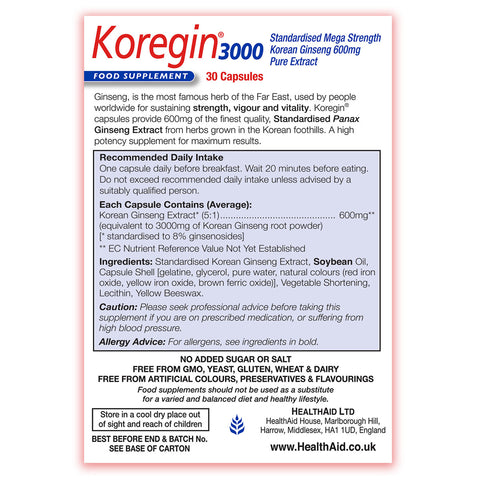 ---
---
Ginseng is one of the most famous herbs in East Asia, used by people worldwide for sustaining health. Korean Ginseng, also known as Panax Ginseng or Chinese Ginseng, is believed to have adaptogenic properties, which means it might help the body cope with stress and fatigue. It is often used to boost energy and increase overall vitality. Korean Ginseng may improve cognitive function and mental clarity. It might help enhance focus, attention, and memory. Korean Ginseng is often considered an aphrodisiac and may be beneficial for sexual health, potentially enhancing libido. 
Ginsenosides are compounds which are thought to be the main active constituents of Korean Ginseng. Koregin® 3000 capsules provide 600mg of the finest quality Panax Ginseng extract (equivalent to 3000mg of Ginseng root powder), which is standardised to 8% Ginsenosides. 
Benefits
Recommended Daily Intake
One capsule daily before breakfast. Wait 20 minutes before eating. Do not exceed recommended daily intake unless advised by a suitably qualified person.
Free From
Free From GMO, Yeast, Gluten, Wheat, Dairy, Artificial Colours, Preservatives and Flavourings, No Added Sugar or Salt.
Nutritional Information
Koregin 3000 (Korean Ginseng) Capsules contains (average):
| Nutrient | Value | %NRV |
| --- | --- | --- |
| Korean Ginseng 5:1 Extract | 600mg** | * |
*: EC Nutrient Reference Value Not Yet Established
Ingredients
Standardised Korean Ginseng Extract, Bulking Agent (soybean oil, vegetable shortening, yellow beeswax), Capsule Shell [gelling agent (gelatine), humectant (glycerol, purified water), natural colours (brown, yellow, black iron oxides)], Emulsifier [lecithin (unbleached)].