Karela Extract 1250mg Tablets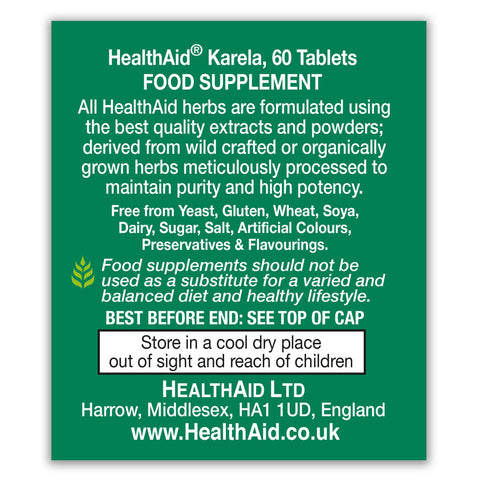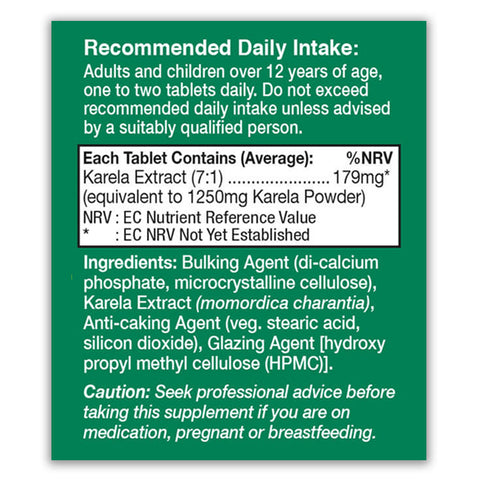 ---
---
Karela, scientifically known as Momordica Charantia and commonly referred to as Bitter Melon, is a tropical and subtropical vine that thrives in various regions, including Asia, Africa, and the Caribbean. Karela is seen as a natural remedy to support overall well-being. 
Karela is considered to have potential anti-diabetic effects, as it may help lower blood sugar levels and improve insulin sensitivity. Its high fibre content aids in digestion and promotes a feeling of fullness, potentially assisting with weight management. Karela's antioxidants contribute to overall immune system support and help combat oxidative stress. Moreover, some studies suggest it has a role in managing cholesterol levels and supporting skin health.  
Benefits
Recommended Daily Intake
Adults and children over 12 years of age, one to two tablets daily. Do not exceed recommended daily intake unless advised by a suitably qualified person.
Free From
Free from Yeast, Gluten, Wheat, Soya, Dairy, Sugar, Salt, Artificial Colours, Preservatives and Flavourings.
Nutritional Information
Karela Extract 1250mg Tablets contains (average):
Nutrient
Value
%NRV
Karela Extract (7:1)
(equivalent to 1250mg Karela Powder)
179mg*
*: EC Nutrient Reference Value Not Yet Established
Ingredients
Bulking Agent (di-calcium phosphate, microcrystalline cellulose), Karela Extract (momordica charantia), Anti-caking Agent (veg. stearic acid, silicon dioxide), Glazing Agent [hydroxy propyl methyl cellulose (HPMC)].