Iron Formula Plus Tablets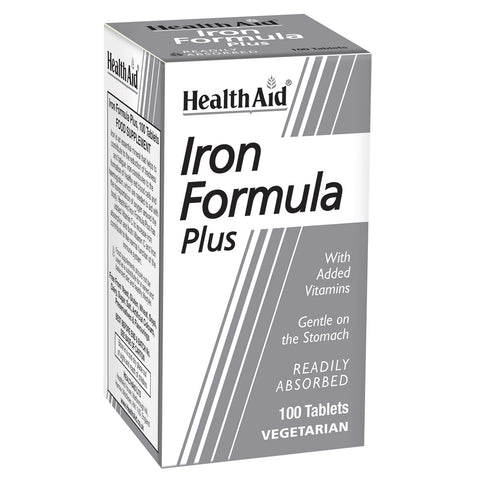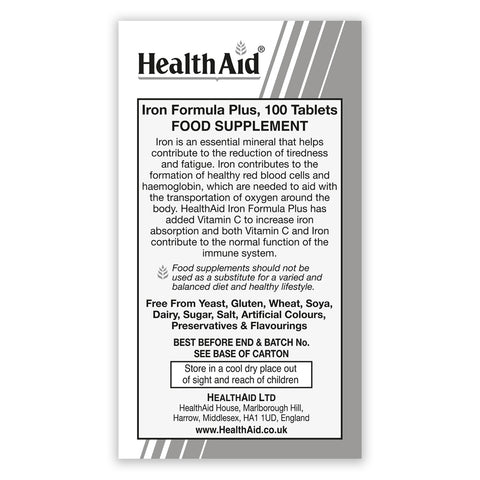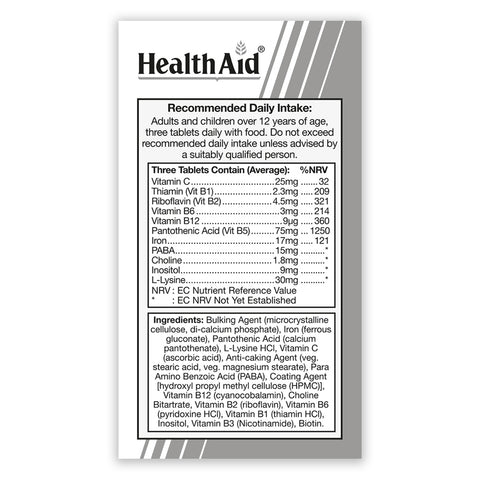 ---
---
Iron is the essential mineral that contributes to the reduction of tiredness and fatigue. It also contributes to the formation of healthy red blood cell and haemoglobin. It is important to carry oxygen and nutrients to all parts of the body, contributes to the maintenance of normal metabolic functions and provides a feeling of strength, vigour and vitality. HealthAid® Iron Formula has added vitamin C to increase Iron absorption and a range of other B vitamins to help keep energy levels at its optimum.
Benefits
Recommended Daily Intake
Adults and children over 12 years, three tablets daily with main meals as a food supplement. Do not exceed recommended daily intake unless advised by a suitably qualified person.
Free From
** FREE FROM SUGAR, SALT, CORN, GLUTEN, YEAST, GELATIN, LACTOSE, STARCH, WHEAT, SOYA, NUT ** FREE FROM ARTIFICIAL COLOURS, FLAVOURINGS AND PRESERVATIVES
Nutritional Information
Iron Formula Plus Tablets contains (average):
Nutrient
Value
%NRV
Vitamin C
25mg
32
Thiamin (Vit B1)
2.3mg
209
Riboflavin (Vit. B2)
4.5mg
321
Vit B6 (Pyridoxine)
3mg
214
Vit B12
9µg
360
Pantothenic Acid (Vit B5)
75mg
1250
Iron
17mg
121
PABA
15mg
*
Choline
1.2mg
*
Inositol
3mg
*
L-Lysine
30mg
*
NRV: EC Nutrient Reference Value
*: EC NRV not established