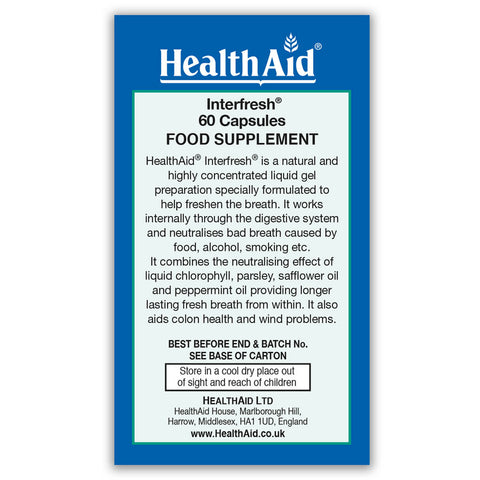 ---
---
Interfresh® Capsules are a natural and highly concentrated liquid gel preparation, specially formulated to help freshen the breath. Interfresh® Capsules work internally through the digestive system and neutralise bad breath caused by garlic, onion, fish, spicy foods and smoking. They are also beneficial to overcoming morning breath. 
Interfresh® Capsules should be taken in the morning to give you day-long confidence or before eating to leave you with fresh minty breath. There are, however, some health conditions that present with the sign of persistent bad breath. Should this be a concern, please reach out to your healthcare professional for medical advice. 
Benefits
Recommended Daily Intake
Swallow two capsules daily with water after eating. Repeat if required up to 3 times daily. Do not exceed recommended daily intake unless advised by a suitably qualified person.
Free From
Free From Yeast, Gluten, Wheat, Starch, Soya, Dairy, Sugar, Salt, Artificial Colours, Preservatives and Flavourings.
Nutritional Information
Interfresh Capsules contains (average):
Nutrient
Value
%NRV
Safflower Oil
130mg
*
Parsley Seed Oil
30mg
*
Peppermint Oil
30mg
*
Chlorophyll
6mg
*
Menthol
1.5mg
*
*: EC Nutrient Reference Value Not Yet Established
Ingredients
Capsule shell (Gelatine, Glycerol, Purified Water), Safflower Oil, Parsley Seed Oil, Peppermint Oil, Chlorophyll Oil, Menthol Oil