Infant Probio - Probiotic Drops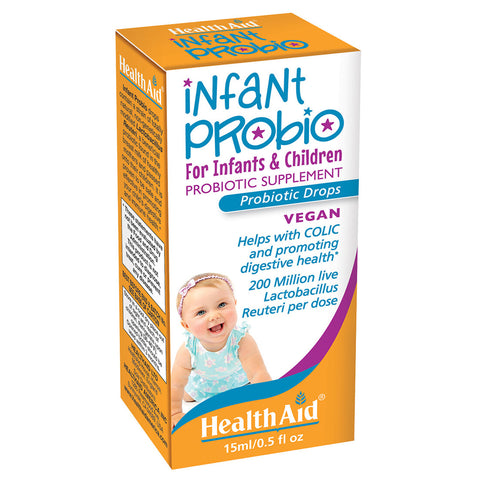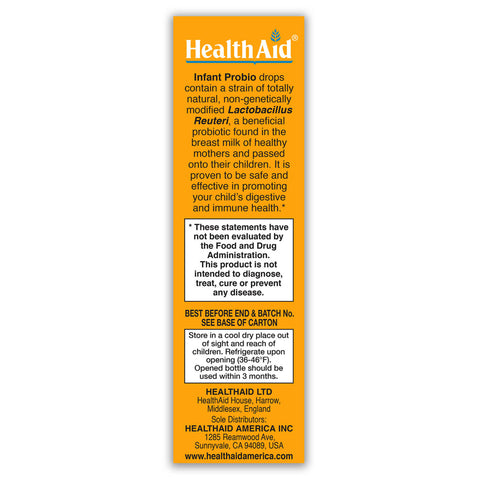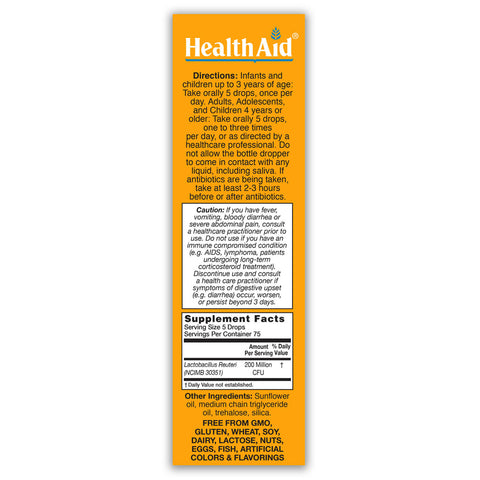 ---
---
Without a healthy gastrointestinal tract, infants
can't
get the proper nourishment to grow or defend
themselves
against pathogens.
A healthy digestive system
contains
a healthy balance of 'friendly' and 'unfriendly' bacteria.
Infants need to
increase
the
variation of bacteria in the gut
to build their immune system
and minimise digestive tract problems
.
HealthAid
®
Infant
Probio
™
helps to increase the 'friendly' bacteria
,
support
the immune
system
and
assist
in the absorption of nutrients
within the gut by
providing
200 mi
llion special strains of
Lactobacillus
Reuteri
(live microorganisms
isolated from breast milk
).
Benefits
Recommended Daily Intake
Infants and children up to 3 years of age: Give 5 drops, once a day. Adults, Adolescents and Children 4 years or older: Take orally 5 drops, one to three times per day, or as directed by a healthcare professional. Do not allow the dropper to come in contact with any liquid, including saliva. If antibiotics are being taken, take at least 2-3 hours before or after antibiotics. Do not exceed recommended daily intake unless advised by a suitably qualified person.
Free From
Free from Gluten, Wheat, Soy, Dairy, Lactose, Nuts, Eggs, GMOs, Artificial Colours, Flavourings and Preservatives.
Nutritional Information
Infant Probio - Probiotic Drops contains (average):
| Ingredients | Amount | % NRV |
| --- | --- | --- |
| Lactobacillus Reuteri NCIMB 30351 | 200 million CFU* | * |
NRV: EC Nutrient Reference Value
*: EC NRV Not Yet Established
* The stated bacterial count was incorporated at the time of manufacture. Due to the unstable nature of organisms, the live count may vary and may decline over time depending on temperature fluctuations and storage conditions.
Ingredients
Lactobacillus Reuteri, Sunflower oil, MCT (Medium Chain Triglyceride), Trehalose, Silica.