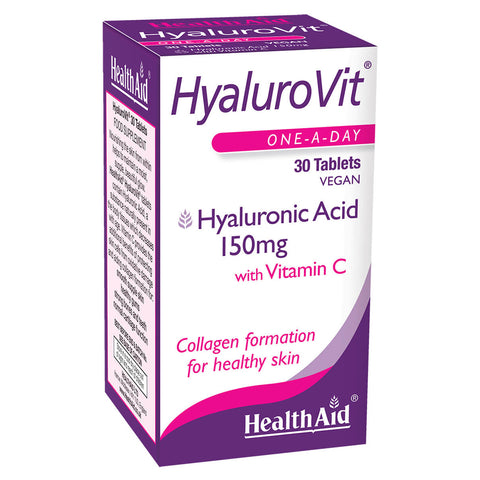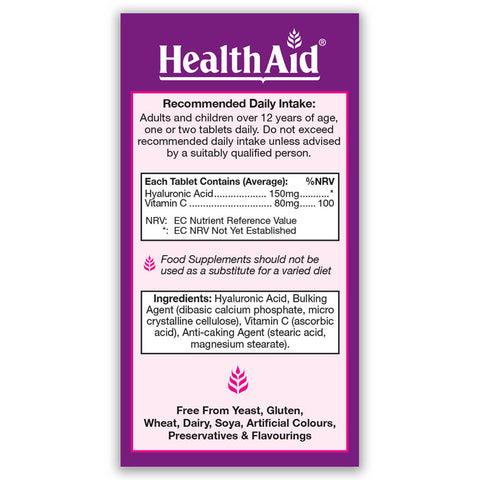 ---
---
Hyaluronic acid, also known as HA, is a natural compound found in skin and has many important functions. Together with Vitamin C this includes holding in moisture, providing cushioning, aiding in tissue repair, holding together the skin structural components, collagen, elastin, and helping to create a protective barrier against microorganisms.
Benefits
Recommended Daily Intake
Adults and children over 12 years of age, one to two tablets daily. Do not exceed recommended daily intake unless advised by a suitably qualified person.
Free From
** Free From Yeast, Gluten, Wheat, Dairy, Soya, Artificial Colours, Flavourings and Preservatives.
Nutritional Information
Hyalurovit Tablets contains (average):
Nutrient
Value
%NRV
Hyaluronic Acid
150mg
*
Vitamin C
80mg
100
*: EC Nutrient Reference Value Not Yet Established
Ingredients
Hyaluronic Acid, Bulking Agent (dibasis calcium phosphate, micro crystalline cellulose), Vitamin C (ascorbic acid), Anti-caking Agent (stearic acid, magnesium stearate).