Hyaluronic Acid 55mg Tablets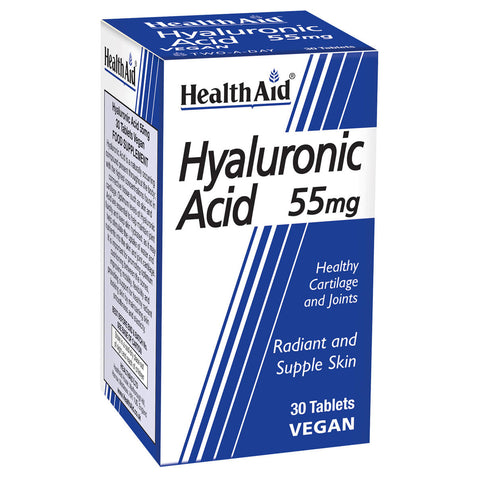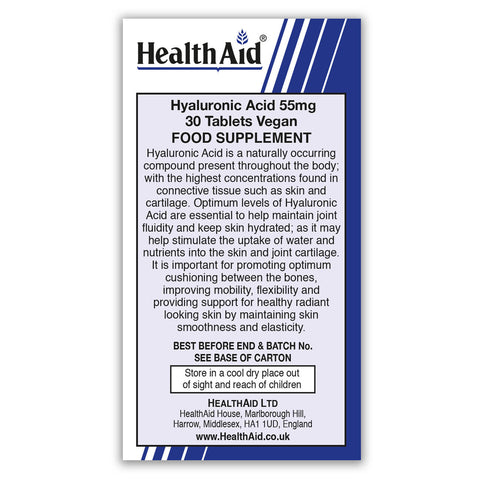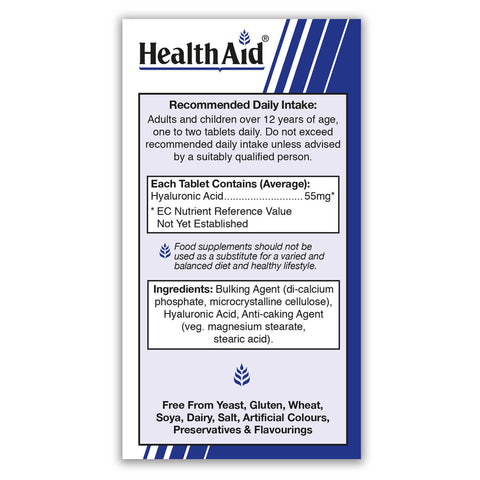 ---
---
Hyaluronic Acid is a naturally occurring compound present throughout the body; with the highest concentrations found in connective tissue such as skin and cartilage. Optimum levels of Hyaluronic Acid are essential to help maintain joint fluidity and keep skin hydrated; as it may help stimulate the uptake of water and nutrients into the skin and joint cartilage. It is important for promoting optimum cushioning between the bones, improving mobility, flexibility and providing support for healthy radiant looking skin by maintaining skin smoothness and elasticity.
Benefits
Recommended Daily Intake
Adults and children over 12 years of age, one to two tablets daily. Do not exceed recommended daily intake unless advised by a suitably qualified person.
Free From
** Free From Yeast, Gluten, Wheat, Soya, Dairy, Salt, Artificial Colours, Preservatives & Flavourings.
Nutritional Information
Hyaluronic Acid 55mg Tablets contains (average):
Nutrient
Value
%NRV
Hyaluronic Acid
55mg
*
*: EC Nutrient Reference Value Not Yet Established
Ingredients
Bulking Agent (di-calcium phosphate, microcrystalline cellulose), Hyaluronic Acid, Anti-caking Agent (veg. magnesium stearate, silicon dioxide).