Horse Chestnut, Butchers Broom Complex Tablets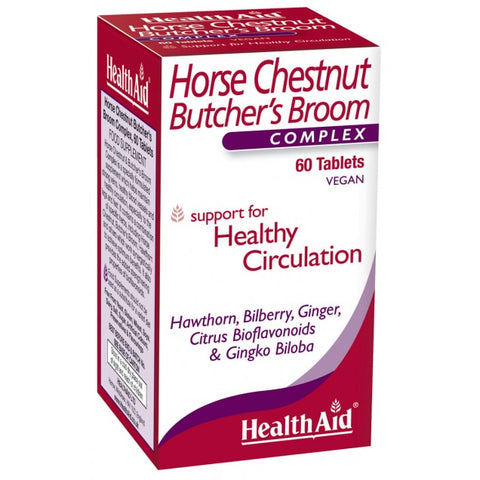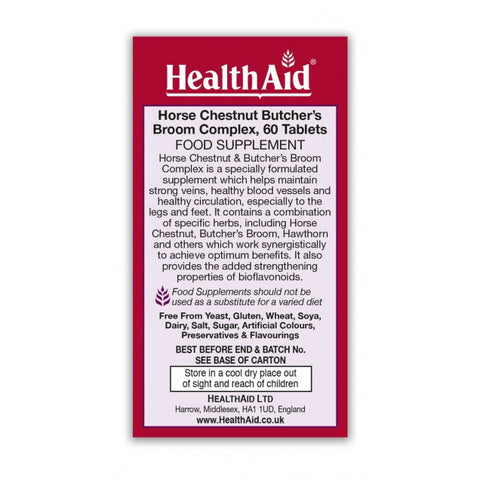 ---
---
Horse chestnut Butchers Broom Complex Tablets are specifically formulated for the body's specific requirement. This complete combination contains high potency standardised herbal extracts with Hawthorn, Bilberry, Ginkgo, Ginger, Cayenne plus other herbal extracts that work synergistically to help maintain healthy circulation to the legs and feet.
Benefits
Recommended Daily Intake
Adults one tablets daily; can be increased up to 2 tablets daily if required. Do not exceed recommended daily intake unless advised by a suitably qualified person. Caution: Please seek professional advice before taking this supplement if you are pregnant or likely to become pregnant, or if you are on prescribed medication.
Free From
** Free From Yeast, Gluten, Wheat, Soya, Dairy, Salt, Sugar, Artificial Colours, Preservatives & Flavourings
Nutritional Information
Horse Chestnut, Butchers Broom Complex Tablets contains (average):
Nutrient
Value
%NRV
Horse Chestnut PE, Equivalent to
500mg
*
Gingko Biloba PE, Equivalent to
500mg
*
Butcher's Broom PE, Equivalent to
300mg
*
Hawthorn Berry PE, Equivalent to
300mg
*
Ginger Root PE, Equivalent to
300mg
*
Bilberry PE, Equivalent to
250mg
*
Citrus Bioflavonoids PE, Equivalent to
150mg
*
Cayenne Fruit PE, Equivalent to
60mg
*
*: EC Nutrient Reference Value Not Yet Established PE-Powder Extract
Ingredients
Bulking Agent (microcrystalline cellulose, di-Calcium phosphate,), Citrus Bioflavonoids, Horse chestnut (Aesculus hippocastanum fruit), Butcher's Broom (Ruscus aculeatus root), Billberry (Vaccinium myrtillus fruit), Hawthorn (Rategus monogyna berry), Stabiliser (crosslinked sodium carboxy methyl cellulose), Anti caking agent (silicon dioxide, veg. magnesium stearate), Glazing Agent [(hydroxyl propyl methyl cellulose (HPMC), glycerine)], Binding Agent (acacia gum), Cayenne (Capsicum frutescens fruit), Ginger (Zingiber officinale root), Ginkgo Biloba (Ginkgo biloba leaf).