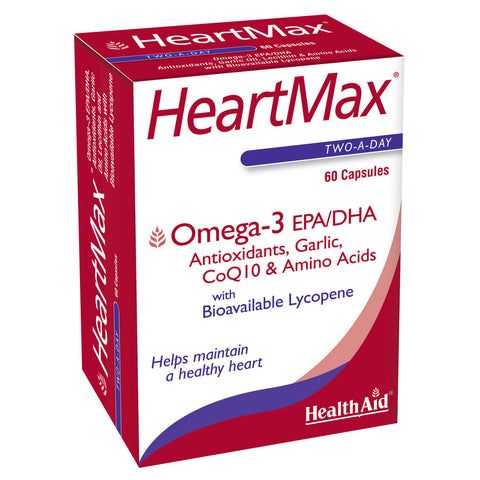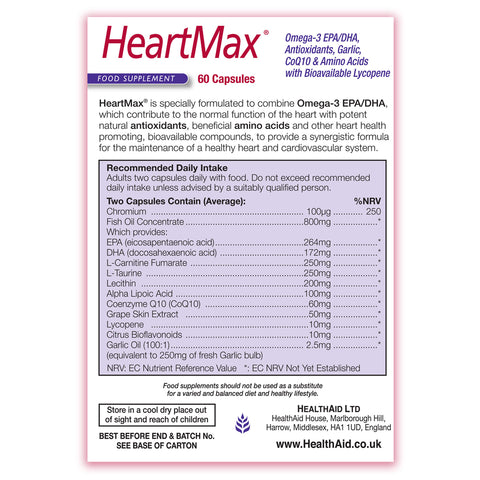 ---
---
HeartMax Capsules have been specially formulated to promote and support cardiovascular health. The formulation is composed of a synergistic blend of key ingredients, each contributing to various aspects of heart health and overall well-being. 
Omega-3 fatty acids, specifically eicosapentaenoic acid (EPA) and docosahexaenoic acid (DHA) are known to support heart health by reducing triglyceride levels, lowering blood pressure, and promoting healthy blood vessel function. Garlic contains compounds like allicin, which may help lower blood pressure, reduce cholesterol levels, and inhibit the formation of arterial plaque. Taurine has been known to support heart muscle function and regulate electrolyte balance. Antioxidants neutralise free radicals and promote the health of blood vessels and the heart. 
Benefits
Recommended Daily Intake
Adults two capsules daily with food. Do not exceed recommended daily intake unless advised by a suitably qualified person.
Free From
Free From Gluten, Wheat, Dairy, Artificial Colours, Preservatives and Flavourings, No Added Sugar or Salt.
Nutritional Information
HeartMax Capsules contains (average):
Ingredient
Amount
%NRV
Chromium
100µg
250
Fish Oil Concentrate
800mg
*
EPA (Eicosa-pentaenoic acid)
264mg
*
DHA (docosahexaenoic acid)
172mg
*
L-Carnitine fumarate
250mg
*
L-Taurine
250mg
*
Lecithin
200mg
*
Alpha Lipoic Acid
100mg
*
Coenzyme Q10 (CoQ10)
60mg
*
Grape Skin Extract
50mg
*
Lycopene
10mg
*
Citrus Bioflavonoids
10mg
*
Garlic Oil (100:1) (Equivalent to 250mg of fresh Garlic bulb)
2.5mg
*
*: EC Nutrient Reference Value Not Yet Established
Ingredients
Concentrate, Gelling Agent (gelatine), Humectant (glycerol), Refined Coconut Oil, L-Carnitine, L-Taurine, Lecithin, Bulking Agent (soybean oil), Thickener (yellow beeswax), Alpha Lipoic Acid, Purified Water, Coenzyme Q10 (CoQ10), Grape Skin Extract, Natural Colours (black iron oxide, red iron oxide), Citrus Bioflavanoids, Lycopene, Garlic Oil, Chromium Picolinate.